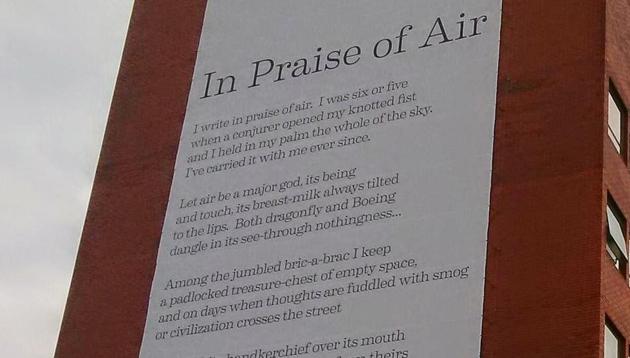 A poem that 'purifies' air by removing nitrogen oxide to be auctioned off in UK
An air-cleaning formula used in the material the poem's printed on, helps eliminate the equivalent of 20 cars' nitrogen oxide pollution every day.
London | By Press Trust of India
UPDATED ON MAY 04, 2017 07:05 PM IST
The world's first air-cleansing poem, which has removed more than two tonnes of pollution from the environment, is being auctioned off for charity to help in the battle against lung disease in the UK.
Printed on a specially-treated material developed by Sheffield scientists, the poem, 'In Praise of Air', is capable of purifying its surroundings through catalytic oxidation.
The giant banner on which the poem is printed has been manufactured using revolutionary nano-technology. It is coated with a photocatalyst which eats pollution, enabling the poem to clean the air around it as it sits in place.
The poem by award-winning writer Simon Armitage, Professor of Poetry at the University of Sheffield's School of English, has been transformed into 12 limited edition artworks that are being auctioned to raise funds for the British Lung Foundation on May 9.
The team behind the project believes its catalytic technology could help urban areas tackle high levels of pollution.
Since being developed in 2014, the poem has removed more than two tonnes of nitrogen oxide from the environment while on display on the wall of the University's Alfred Denny building. (Nitrogen oxide speeds global warming and acid rain.)
Now, 12 sections of the poem have been stretched onto frames and signed by Simon Armitage for auction at a special celebration event.
The team also hopes the poem and its air-cleansing technology can be replicated on billboards and artwork in towns and cities across the world to help tackle pollution.
Professor Jo Gavins, who leads the project from the University of Sheffield's School of English said, "The nitrogen oxides that 'In Praise of Air' helped remove from the atmosphere during its time on the wall of the Alfred Denny building are a major cause of lung diseases and we hope to have raised public awareness of their damaging impact through our cross-disciplinary collaboration".
"We're delighted to be celebrating the end of our project by reusing the catalytic poem material and supporting the British Lung Foundation, who fund essential research on the prevention and treatment of lung diseases.
"Our final catalytic poetry event on Tuesday will ensure that our project has a lasting legacy, both through the creation of new artworks from the poem banner and through our donation to lung disease research," Gavins added.
Close