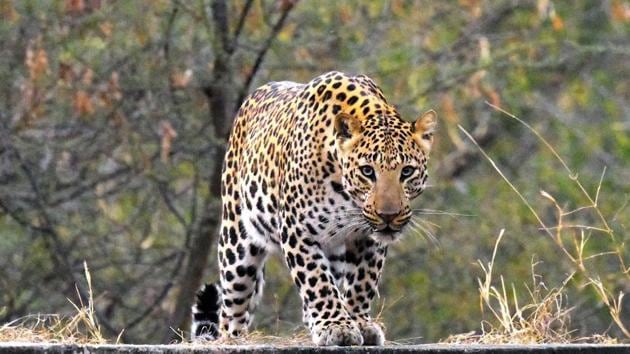 Leopard near runway shuts down Nepal international airport
The leopard disappeared into storm drains along the runway at Kathmandu airport and a search is on to locate it.
Hindustan Times, Kathmandu | By Anil Giri
UPDATED ON APR 03, 2017 07:51 PM IST
Nepal's only international airport halted all domestic and international flights for 30 minutes on Monday morning after a leopard spotted near the runway.
A pilot from a domestic airline first noticed what appeared to be a leopard on the runaway at 7.45 am and reported it to air traffic controllers at Tribhuvan international airport.
Security agencies at the airport were alerted and told to look for the animal. But their efforts yielded nothing and officials said they believed the animal may have hidden inside a drain that has both ends closed.
"We closed the airport for about 30 minutes after the incident was reported but we haven't found the animal yet," said Prem Nath Thakur, spokesperson for the airport.
"It is not known if the trespasser was a leopard or a wild cat. We will resume the hunt later in the night when an animal's eyes start glittering (in the dark) or go green."
He added, "Those who were on duty on the runway told us it was a leopard but we have not been able to ascertain this."
A team comprising experts from the police and forest departments searched for the animal for four hours but they abandoned the hunt after they noticed something inside the airport's drains.
A team of officials from the local zoo and other departments will assist in the new search expected to begin at midnight after the airport is totally closed down.
The cancellation of flights at the domestic and international airports, which share parallel runways, caused problems for travellers.
There have been instances of bird-hits at the Kathmandu airport and stray cattle and dogs have also been known to disrupt flights. But this is the first time a wild animal spotted near the runway shut down operations.
In 2016, a plane with nine passengers was forced to make an emergency landing when a bird struck its wing. Nineteen people were killed in 2012 when an aircraft hit a bird and crashed shortly after taking off from the airport.
However, this was not the first time a leopard was spotted near the Kathmandu airport. About a month ago, a leopard spotted at Gothatar village near the airport was captured by zoo officials.
Environmentalists and ecologists say wild animals are being frequently spotted in Kathmandu as their habitat in the vicinity of the capital has been encroached on by human settlements.
Close