On Masood Azhar, China's cryptic response after security pact with India
Hindustan Times, Beijing |
Sutirtho Patranobis
Oct 23, 2018 08:10 PM IST
The listing of Pakistan-based global terrorist Masood Azhar as global terrorist and ULFA chief Paresh Baruah's status in China were the two major concerns that India conveyed to China during a landmark bilateral meeting on security held between the two countries in New Delhi on Monday.
China indicated on Tuesday it will continue blocking efforts to list Pakistan-based Jaish-e-Mohammed chief Masood Azhar as a global terrorist despite Indian concerns, a day after the two sides signed their first security cooperation pact aimed at combating terrorism.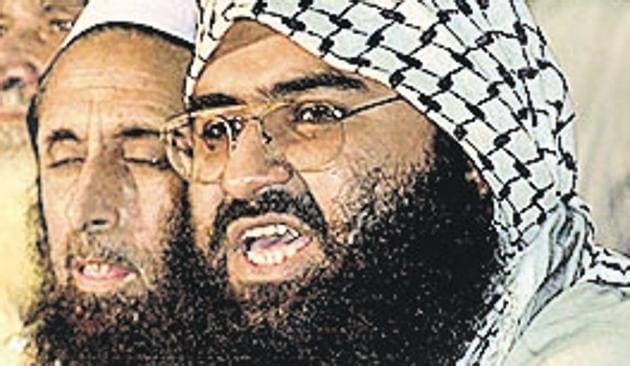 The foreign ministry was also dismissive about the status of ULFA chief Paresh Baruah, who is believed to have a base in China.
Stay tuned with breaking news on HT Channel on Facebook.
Join Now
Several moves by India and other countries over the past few years to sanction Azhar at the UN Security Council have been blocked by China, a veto-wielding permanent member of the body, with observers saying it was acting to save its "all-weather ally" Pakistan from embarrassment.
Despite the signing of the security cooperation agreement in New Delhi on Monday by home minister Rajnath Singh and China's visiting minister of public security Zhao Kezhi, differences clearly remain on certain issues.
Responding to a question on Azhar at a news briefing on Tuesday, the foreign ministry indicated the proof collected against the Pakistan-based terror suspect did not merit a listing.
"In the counter-terrorism issue, China has always actively participated in international anti-terrorist operations. We have always made our decisions and judgments on the merits of the matter itself. We will continue to step up the security cooperation to uphold regional peace and stability with parties," ministry spokesperson Hua Chunying said.
On Baruah and allegations that China supplies weapons to insurgents in northeast India, Hua was dismissive. "I shall stress that the Chinese government has always adhered to the principle of non-interference in the internal affairs of other countries. This remains unchanged," she said.
Hua hailed the new security pact as a reflection of the sound ties between the two countries, saying the mechanism will help the two sides combat terror and trans-border crimes and tackle separatist forces, telecom fraud and narcotics-related crimes.
"This cooperation treaty is very important in terms of advancing law enforcement and security cooperation. Now the two countries enjoy the sound development of bilateral relations," she said.
The listing of Azhar and Baruah's shadowy status in China were two major concerns that India conveyed to China during the landmark bilateral meeting on security in New Delhi on Monday.
Referring to the informal summit between Prime Minister Narendra Modi and President Xi Jinping in Wuhan in April, Hua said: "We believe this cooperation on security and law enforcement will help us to combat crimes as it will provide more institutional and systematic guarantee in this regard."
She added, "We will explore more areas for security and law enforcement cooperation and ensure the security of our personnel carrying out projects in each other's countries."