Protests break out in Pakistan city against twin rapes, murders
Updated on Apr 03, 2018 06:47 PM IST
A seven-year-old girl and a university student were abducted and their bodies recovered later with torture marks; police yet to make arrests.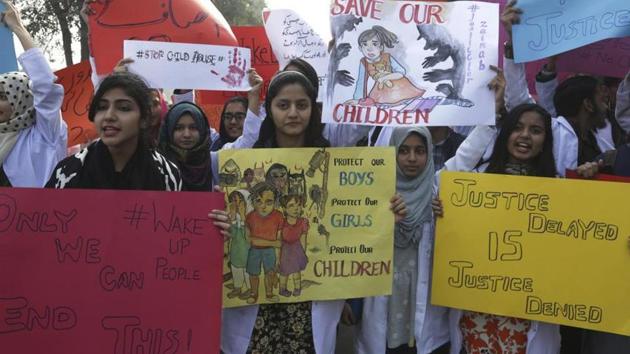 Several people took to the streets in a Pakistani city on Tuesday to protest the brutal rape and murder of a seven-year-old girl and a university student, authorities said.
The protests came after the minor girl was abducted in Pakistan's Punjab province when she left the house to go to a nearby grocery shop last Sunday.
The girl's father said she was later found strangled in the fields the same day with multiple torture marks. Police registered a case of abduction, assault and murder. No arrests have been made so far.
On March 25, a student of English Literature at the Government College University Faisalabad was abducted by unidentified men. The body was recovered in a canal a few days later.
Following the two incidents, a shutter-down strike was observed in Jaranwala city, some 100km from Lahore, and a large number of people, including students, staged demonstrations against the rapes and murders.
Carrying banners and placards inscribed with slogans against police, the students said they have only been trying to please the rulers instead of tracing the criminals and protecting people's lives. They have vowed to continue the agitation till the killers are arrested.
The incidents took place weeks after the nation was rocked by protests after the brutal murder of a minor girl in Kasur district of Punjab. Police had arrested Imran Ali, 23, for the crime and he was later sentenced to death.