Rishi Sunak becomes UK PM: Wishes pour in, Johnson gives 'wholehearted support'
Oct 26, 2022 12:14 AM IST
Rishi Sunak pledged to "fix" the errors of Truss's outgoing administration but warned of "difficult decisions to come" in his first address as UK's Prime Minister.
Former British prime minister Boris Johnson extended his 'wholehearted support' to Rishi Sunak after the ex finance minister was named leader of the ruling Conservative Party and the new PM. Sunak is the first Asian-origin UK prime minister; his appointment was formally notified after a meeting with King Charles at Buckingham Palace in London.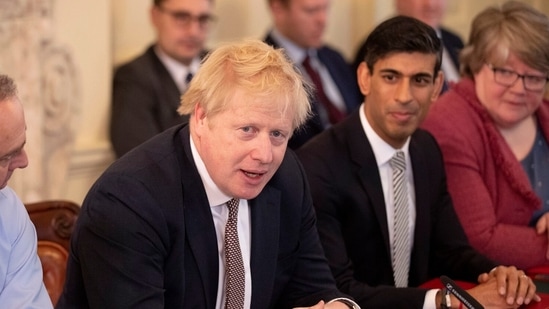 "Congratulations to Rishi Sunak on this historic day... this is the moment for every Conservative to give our new PM their full and wholehearted support," Johnson - who was linked with a surprise return to 10, Downing Street last week - tweeted.
Johnson's tweet came as Sunak gave his first speech as the British PM. Johnson paved the way for Sunak after he dropped out of the leadership race Sunday.
Other world leaders also took to Twitter to extend their best wishes to Sunak.
Also Read: British law, business ministers quit as new PM Sunak begins cabinet overhaul
US President Joe Biden also lauded Sunak as a "ground-breaking milestone" and expressed hope for closer bilateral ties.
"It's pretty astounding, a groundbreaking milestone and it matters," Biden said at a White House Diwali celebration on Monday. He later extended his wishes on Twitter as well.
France's Emmanuel Macron tweeted that "together we will continue working to tackle the challenges of the moment, including the war in Ukraine and its many consequences for Europe and the world".
Ukrainian President Volodymyr Zelensky wrote on social media that he hoped Sunak would be able "to successfully overcome all the challenges facing British society and the whole world today".
Prime Minister Narendra Modi took to Twitter on Monday, when Sunak won the race for UK PM, to congratulate the leader. "As you become UK PM, I look forward to working closely together on global issues. Special Diwali wishes to the 'living bridge' of UK Indians, as we transform our historic ties into a modern partnership," Modi wrote.
Australian treasurer, Jim Chalmers, called Sunak a great friend of Australia and lauded Britain's significance of having its first prime minister of Asian descent.
China's leadership said it wants to "advance ties with the UK" under Sunak, Foreign Ministry spokesman Wang Wenbin was quoted as saying by the BBC.
The new UK prime minister, meanwhile, thanked Boris Johnson in his address, and said he would 'always be grateful' for his incredible achievements. "I treasure his warmth and generosity of spirit, and I know he would agree that the mandate my party earned in 2019 (when Johnson was elected PM) is not the sole property of any one individual. It is a mandate that belongs to and unites all of us."
Sunak pledged to 'fix' errors made by outgoing PM Liz Truss and her administration but warned of 'difficult decisions' that would have to be made.
Truss, who resigned last week after just 45 days in office (she beat Sunak in a leadership contest triggered by Johnson's resignation in July) has also congratulated Sunak, who is the youngest British PM in over 200 years.
"You have my full support," she said.