Saudi Arabia to open sports stadiums to women in reform push
Saudi Arabia will allow women into sports stadiums for the first time from next year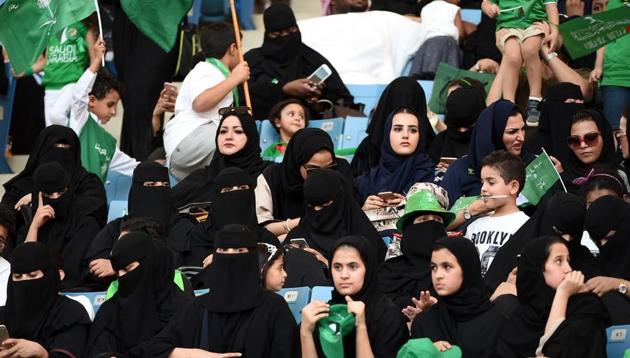 Updated on Oct 30, 2017 06:02 PM IST
Weeks after Saudi Arabia announced it would allow women to drive from next year, reports have emerged of the conservative kingdom planning to ease restrictions on allowing women into sports stadiums.
Women will be allowed into three stadiums – King Fahd Stadium in Riyadh, King Abdullah Sport City in Jeddah, and Prince Mohammed Bin Fahd Stadium in Dammam – from early 2018, said a statement issued by the General Sports Authority, the country's governing body for sports, on Sunday.
The stadiums will begin preparations to "accommodate families", CNN quoted the statement as saying.
It was unclear what sort of seating arrangements would be made for women. Men and women are currently separated at Saudi venues where both sexes are allowed.
The stadiums chosen by the sports body are the largest and also home to six teams in the Saudi Professional League – the top football division – and two have the highest seating capacity.
In September, women were allowed to enter King Fahd Stadium for an event commemorating the kingdom's 87th anniversary though they were limited to a section for families.
The same month, the Saudi king issued a landmark decree that will allow women to drive from next June. The long-standing and widely criticised ban driving was seen globally as a symbol of repression of women.
Many women's rights activists were jailed over the years for flouting the ban and Saudi Arabia became the last country in the world to allow women behind the wheel.
The greater freedom for women is part of 32-year-old crown prince Mohammed bin Salman's ambitious reforms to transform the kingdom by 2030 and move it away from an oil-based economy. He recently pledged to restore "moderate, open" Islam in Saudi Arabia, which is governed strictly according to Shariah law.
Empowering Saudi youth and women are key pillars of the crown prince's plan to modernise the country and boost its economy.
Under Saudi Arabia's strict laws, women cannot marry, divorce, travel, get a job or a passport without permission from their male guardians. They cannot mix with men and must wear a full-length black 'abaya' or cloak in public.
Close Story