Justin Trudeau's 'unusual' India trip raises eyebrows, panned by Canada watchdog
Updated on Feb 20, 2018 03:25 PM IST
The Canadian prime minister's schedule includes just half-a-day of official engagements in New Delhi.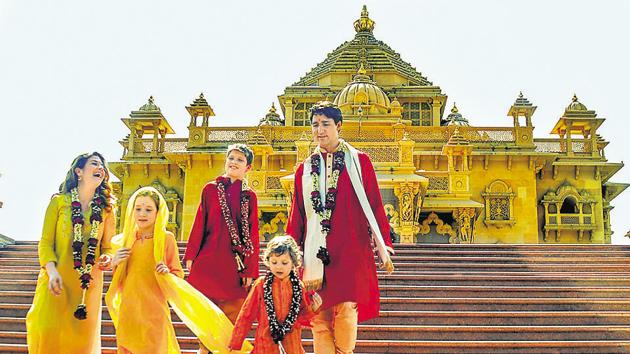 As Canadian Prime Minister Justin Trudeau continues his eight-day visit to India, the fact that his schedule includes just half-a-day of official engagements in New Delhi is being described as "unusual" by veteran diplomats and criticised by a Canadian watchdog.
A veteran Indian diplomat said in his long experience with bilateral visits, he had never experienced a trip of this nature, where the visiting dignitary spent so little time in official engagements with counterparts in the Indian government.
In addition, he said, it was equally surprising that six cabinet ministers accompanying Trudeau had scant official engagements, except for foreign minister Chrystia Freeland, who will confer with external affairs minister Sushma Swaraj ahead of the meeting between the prime ministers in New Delhi on February 23.
The diplomat spoke on condition of anonymity since he did not want to appear "churlish".
The low-key start to the visit on February 17 also raised eyebrows, with commentators noting that Trudeau was received at the Delhi airport by minister of state Gajendra Shekhawat.
This, they noted, was in marked contrast to the warm welcome and hugs from Prime Minister Modi that marked the arrivals of US president Barack Obama, Israeli premier Benjamin Netanyahu and Abu Dhabi crown prince Mohamed bin Zayed Al Nahyan.
Commentators also noted that there had been no tweet from Modi's official account welcoming Trudeau and that he had not accompanied the Canadian leader to his home state of Gujarat. Reports have suggested that the Indian government is unhappy with Canada's soft stance on Sikh radicals, who have increased pro-Khalitsan activities in recent years.
Indian officials were also taken aback by the length and breadth of Trudeau's visit, and the tacking on of an additional day for a town hall in New Delhi on February 24.
The Ottawa-based Canadian Taxpayers Federation, an advocacy group, is not impressed with the itinerary. Its federal director, Aaron Wudrick, said in an email, "While it is understood that a Prime Minister will have to travel frequently, the proportion of time being spent actually meeting foreign counterparts on this trip does not suggest a good use of public money.
"A week is a long time for a PM to spend visiting one country, and a half of a day out of eight is very little official business."
That view was seconded by Vivek Dehejia, professor of economics at Carleton University in Ottawa, who said, "This is an enormous waste of taxpayers' money since it appears that so little of substance will be accomplished."
Some of Trudeau's stops are directed at a domestic constituency. The large and influential Sikh diaspora in Canada could view his visit to the Golden Temple in Amritsar positively. And he will seek to woo the growing Gujarati community in his country with his visits to Sabarmati Ashram and Akshardham Temple.
Dehejia described that as "mostly playing to the diaspora gallery in Canada".
Wudrick was of a similar view, as he said, "A cynic might suggest that the main benefit of this trip is boosting the esteem of the Prime Minister in the eyes of Canada's large Indian diaspora. It is of course his right to electioneer – but Canadian taxpayers should not be paying for it (the Liberal Party of Canada should).
"I recognise that it is difficult to clearly separate government business from partisan political benefit, but if the PM leaves India with little to show for his time there, many Canadians will rightfully question why such a long trip was necessary."
This isn't the longest visit Trudeau has been on. In 2016, he spent 10 days in China, and that trip cost $ 1.8 million, the most expensive prime ministerial tour in a decade, according to an analysis by national broadcaster CBC.
His predecessor Stephen Harper's visit to India cost $ 1.36 million, and included four cities, but that cost also spanned legs in Manila and Hong Kong.
However, Trudeau's team could argue the visit definitely promotes the Canadian brand and a pair of business forums and a CEOs roundtable are evidence of that. Trudeau will also meet the chief ministers of Gujarat, Maharashtra and Punjab as he travels through Ahmedabad, Mumbai and Amritsar. Tangible outcomes during the dialogue with Modi in New Delhi will make it worthwhile.
But scepticism remains, as Dehejia said, "I'll believe it when it happens. What I've seen so far is a lot of noise, a lot of photo opportunities."
Personalise your news feed. Follow trending topics