Trump praises India and Modi, presents vision of 'free and open Indo-Pacific' to APEC CEOs
President Donald Trump said Prime Minister Narendra Modi "has been working to bring that vast country and all of its people together as one".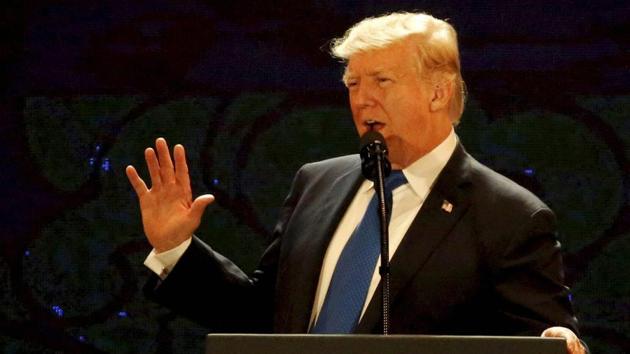 Updated on Nov 10, 2017 11:51 PM IST
President Donald Trump singled out India's success story for praise on Friday as he spoke of the US forging a new partnership with countries in Asia to promote prosperity and a free and open Indo-Pacific region.
Though he was addressing CEOs on the margins of the Asia-Pacific Economic Cooperation (APEC) Summit at Danang in Vietnam, Trump's speech was peppered with repeated references to the "Indo-Pacific", a new term coined by his administration to signal a shift in its priorities in the region.
He noted that countries in the broader region outside the APEC grouping were "making great strides in this new chapter for the Indo-Pacific". India, he said, was celebrating the 70th anniversary of its independence as a "sovereign democracy as well as, think of this, over 1 billion (people) – it's the largest democracy in the world".
"Since India opened its economy it has achieved outstanding growth and a new world of opportunity for its expanding middle class," he said. "And Prime Minister (Narendra) Modi has been working to bring that vast country and all of its people together as one and he is working at it very, very successfully indeed."
He offered a "renewed partnership with America to work together to strengthen the bonds of friendship and commerce" between all countries of the Indo-Pacific to promote prosperity and security.
In an apparent reference to China, Trump said the vision of a "free and open Indo-Pacific" was shared by sovereign nations with a vision of justice and accountability that have promoted private property and rule of law, and "embraced systems that value hard work and individual enterprise".
"But for this…Indo-Pacific dream…to be realised, we must ensure that all play by the rules, which they do not right now. Those who do will be our closest economic partners, those who do not can be certain that the US will no longer turn a blind eye to violations, cheating or economic aggression," he added.
Modi is leaving for the Philippines on Sunday to attend the India-Asean and East Asia Summits. Trump too is scheduled to attend the East Asia Summit, a key meeting between Asean and eight of its partners.
The use of the term Indo-Pacific by Washington has coincided with reports of the revival of a quadrilateral alliance between the US, Japan, Australia and India as a counter-balance to the rise of China.
Chinese officials have ruled out the possibility of their country being contained through measures such as the quadrilateral alliance. Beijing has so far avoided wading into the question of referring to the region as the Indo-Pacific.
Close Story
Personalise your news feed. Follow trending topics