Trump, Putin avoid discussing Russia sanctions
Updated on Jan 29, 2017 02:49 PM IST
The two leaders discussed a range in topics from mutual cooperation in defeating ISIS to efforts in working together to achieve more peace throughout the world including Syria.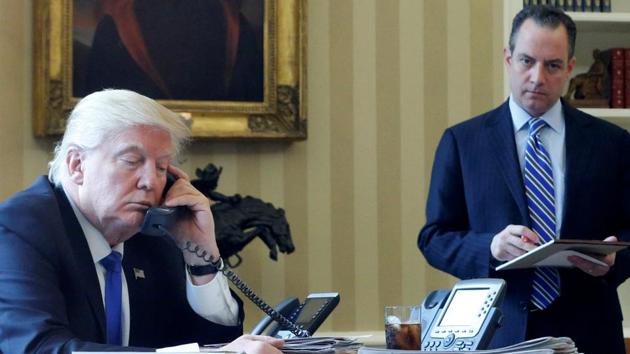 Officials say the thorny matter of US-imposed sanctions on Russia did not come up during US President Donald Trump's first phone call with Russian President Vladimir Putin, which suggests that the more difficult obstacles to warmer relations between their nations can wait.
Statements from the White House and the Kremlin described the conversation on Saturday in positive terms, the same tone used in White House accounts of other calls Trump made to world leaders. Only later did a White House official, responding to a question, acknowledge that sanctions were not among the topics the two leaders discussed.
Read: Trump dials Putin; talks trade, security in 'significant start' to better ties
In the first week of his presidency, Trump has been non-committal on lifting sanctions imposed by his predecessor, Barack Obama, in response to U.S. findings of interference by Russia in the election. Sanctions by the US and its allies were in response to Russia's annexation of Crimea and other actions in the Baltic region.
Both descriptions of the call focused on the positive aspects of a new American leader engaging with the Russian president. In a brief statement, the White House said the discussion was "a significant start to improving the relationship between the United States and Russia that is in need of repair."
The two leaders discussed "a range in topics from mutual cooperation in defeating ISIS to efforts in working together to achieve more peace throughout the world including Syria," the White House statement said, using an acronym for the militant group.
The White House official, who spoke after the statement was issued, said Putin brought up several times that Islamic terrorism was a "common foe" for the US and Russia. The official was not authorised to disclose details of the call by name and insisted on anonymity.
Addressing topics not mentioned in the White House statement, the Kremlin said the two leaders discussed the importance of "restoring mutually beneficial trade and economic ties between business circles of the two countries."
Read: Trump suggests he may do away with Russia sanctions if Moscow is helpful
The Kremlin also said Putin and Trump spoke in particular about international issues, including the fight against terrorism, the Arab-Israeli conflict, Iran's nuclear program, the situation on the Korean peninsula and the Ukraine crisis.
Moscow has applauded Trump's promises to rebuild US-Russian relations, which have been pushed to their worst level since the Cold War by the Ukraine crisis, war in Syria and allegations of Russian meddling in US elections.
Trump signed a presidential memorandum on the plan to defeat the Islamic State group on Saturday, including in it the possibility of teaming up with "new coalition partners," suggesting that pairing up with Russia on counterterrorism issues wasn't off the table.
When asked by reporters about sanctions on Friday, Trump responded: "We'll see what happens. As far as the sanctions, very early to be talking about that."
In 2014, Russia annexed Ukraine's Crimea region and backed separatists fighting government forces in eastern Ukraine, drawing widespread condemnation in Europe and the United States. In response, sanctions were implemented against sectors of Russia's economy, including financial services, energy, mining and defence. The Obama administration also sanctioned people in Putin's inner circle.
Shortly before leaving office, Obama also ordered sanctions on Russian spy agencies, closed two Russian compounds in the United States and expelled 35 diplomats that he said were really spies. These sanctions followed an assessment by US intelligence that Moscow meddled in the 2016 election to help Trump.
Trump's tempered approach to US-Russia relations has already raised concern among several European allies who believe keeping Russia in check is essential to regional security. Domestically, some Republican lawmakers have warned against easing sanctions and pledged to put them into law.
Trump also placed calls on Saturday to French President Francois Hollande, Australian Prime Minister Malcolm Turnbull, German Chancellor Angela Merkel and Japanese Prime Minister Shinzo Abe.