US defence secretary James Mattis seeks waiver for India from sanctions on Russia
Hindustan Times, Washington |
, Washington
Yashwant Raj
Apr 27, 2018 09:28 PM IST
US defence secretary James Mattis was referring to sanctions that also seek to punish third countries that make "significant transactions" with Russia in the military and intelligence sectors.
US defence secretary James Mattis on Thursday urged lawmakers to grant the administration "flexible waiver authority" for Russia-related sanctions that seek to punish third countries, such as India, which make significant military purchases from Russia.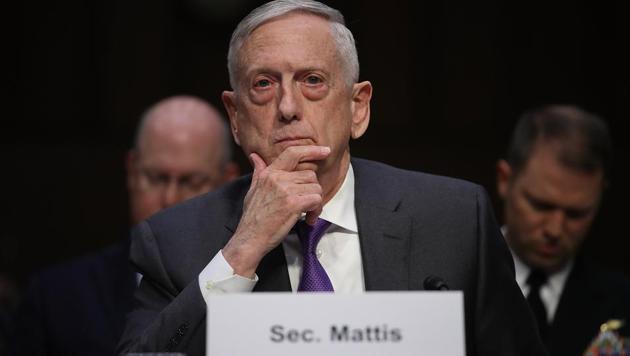 "It is important for us to have a flexible waiver authority, otherwise we prevent ourselves from acting in our own best interest and place an undue burden on our allies or partners," Mattis said in his prepared remarks at a hearing of the US Senate armed services committee on the defence budget for 2019.
In response to a question about affected countries he had in mind, he named India, Indonesia and Vietnam. Mattis urged the lawmakers to grant the waiver as soon as this year.
The waiver he sought was from punitive actions under the Countering America's Adversaries Through Sanctions Act (CAATSA) that was passed by Congress in 2017 and went into effect in January. It seeks to punish Russia for military intervention in Syria and Ukraine and meddling in the 2016 US presidential election.
The law also seeks to punish third countries that make "significant transactions" with Russia in the military and intelligence sectors.
Mattis' appeal to Congress will be noted and welcomed in New Delhi as CAATSA sanctions were said to have put India and the US on a collision course that could be averted only by a waiver, experts have said.
India proposes to buy several S-400 Triumf air defence systems from Russia at an estimated cost of $4.5 billion and initialled an agreement in October 2016, though the final order has been delayed by price negotiations. There have been indications that the two countries are close to clinching the deal.
Given the implications of CAATSA, about which Indian and American officials have had some conversations, New Delhi has quietly conveyed to Washington that it would like the sanctions to be waived. This is an authority currently vested in the president, according to the act.
At stake for India is not just the S-400 deal, but also long-term defence needs. An estimated 60% of India's military hardware is Russian made and even US experts have conceded that forcing India to cut Russian supplies would create an "unacceptable risk" to New Delhi's self-defence, and if forced to choose, it might stay with Moscow.
Mattis made that exact argument for exercising patience with these countries as they wean themselves off Russian supplies. "There are nations in the world who are trying to turn away from formerly Russian-sourced weapons and systems like this," he said, expanding his request for the waiver in response to a question from a senator.
"We only look at India, Vietnam and some others to recognise that eventually we're going to...paralyse ourselves."
Mattis, one of the few members of President Donald Trump's cabinet to command widespread respect in the administration and Congress, assured lawmakers he was not seeking the waiver authority for himself, but secretary of state Mike Pompeo.
"Foreign policy is driven from Foggy Bottom (a Washington neighbourhood that houses the state department headquarters)," he added.
Asked how soon he wanted that waiver, Mattis said, "Every day that Russia is in the position basically to checkmate us with what they are doing…it's urgent." This year? "Absolutely," Mattis replied.
A big worry for the US has been the purchase of S-400 air defence systems by Turkey, a NATO ally. It signed an agreement with Russia in December 2017 to buy two systems. Saudi Arabia, a close partner, is also in talks for the systems.
Mattis's request for a waiver could run into trouble with Russia hawks in Congress, who asked the State Department for a special briefing in March about countries that are in negotiations with Moscow for significant defence purchases, specifically S-400 systems, and demanded they be stopped. The list named India and four other countries.
"We also request a comprehensive summary of our diplomatic efforts to prevent any S-400 deal from being finalised," said the letter written on March 16 by a group of Democratic senators headed by Bob Menendez, the top Democrat on the powerful Senate foreign relations committee.
"Under any circumstance, a S-400 sale would be considered 'significant transaction' and we expect that any sale would result in designations," it added, using the phrase "designations" for naming countries found in violation and marking them for punitive action, including denial of US defence hardware.