Hafiz Saeed a designated terrorist, LeT responsible for hundreds of deaths: US
A Pakistani court on Wednesday ordered the release from house arrest of Hafiz Saeed, accused by of masterminding attacks on Mumbai in 2008 in which 166 people were killed.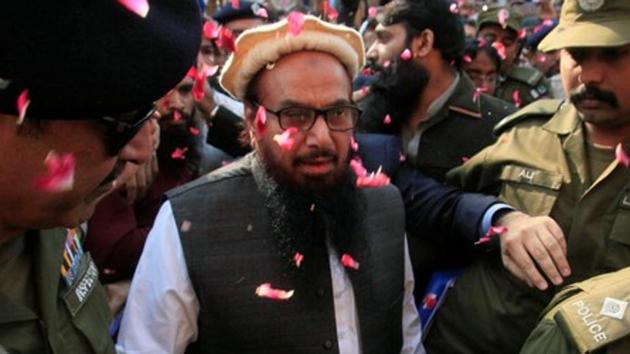 Updated on Nov 23, 2017 11:34 AM IST
Mumbai attacks mastermind and banned Jamaat-ud-Dawah (JuD) chief Hafiz Saeed is a terrorist leader designated by both the United Nations and the United States, the Trump administration has said after a Pakistani court ordered his release from detention.
Saeed, who carries a bounty of $10 million announced by the US for his role in terrorist activities, has been under detention since January this year.
"The US is aware of media reports that Pakistan (court) ordered release of Lashkar-e-Taiba leader Hafiz Saeed from house arrest," a US state department spokesperson told PTI on Wednesday.
In May 2008, the United States Department of the Treasury designated Saeed as a specially designated global terrorist, the spokesperson said. "Saeed was also individually designated by the United Nations under UNSCR 1267 (UN Security Council Resolution) in December 2008 following the November 2008 Mumbai attack," the official added.
Members say the Jamaat-ud-Dawa is a charity but the United States says it is a front for the Pakistan-based Lashkar-e-Taiba militant group.
Saeed was put under house arrest in January after years of living freely in Pakistan. He is accused of directing the Mumbai attacks that killed 166 people and injured another 200 people. India accused Pakistan of sponsoring the attacks through the LeT, which Saeed founded in the 1990s.
"The US reiterates its stance that LeT is a designated Foreign Terrorist Organisation responsible for the death of hundreds of innocent civilians in terrorist attacks, including a number of American citizens," the spokesperson said.
On Wednesday, the Pakistani court rejected the government's plea to extend for three more months Saeed's house arrest.
US President Donald Trump in August accused Pakistan of harbouring "agents of chaos", and Secretary of State Rex Tillerson said last month that the Washington has made "very specific" requests of Pakistan over militancy.
Following a brief period of house arrest in 2008, Saeed led a high-profile public life and regularly delivered fiery anti-India speeches.
He was placed under house arrest once more in January this year following years of foreign pressure, prompting demonstrations in several Pakistani cities.
After news of Saeed's released broke on Wednesday, PTI quoted a government source as saying the move showed how Pakistan was "hoodwinking" the international community on the issue of terrorism.
Close Story