UK's Prince Charles meets Sinn Fein's Gerry Adams
Prince Charles offered a historic handshake Tuesday to Gerry Adams, longtime leader of the Irish nationalist Sinn Fein party and reputedly an Irish Republican Army commander when the outlawed group killed the prince's great-uncle, Lord Louis Mountbatten, in 1979.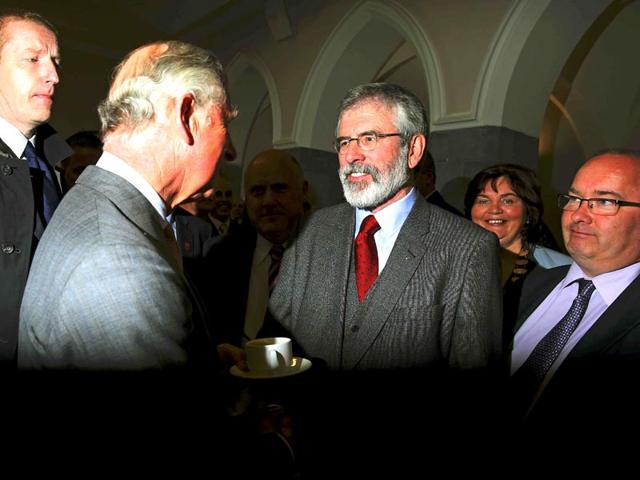 Updated on May 19, 2015 11:59 PM IST
The Northern Ireland peace process touched a new high on Tuesday as Prince Charles met and shook hands with Gerry Adams, leader of the republican group Sinn Fein that is alleged to be closely linked to the militant Irish Republican Army (IRA).
The meeting took place in Galway during a two-day visit by Prince Charles to Ireland, which includes a visit to Mullaghmore village in County Sligo, where his great-uncle, Lord Mountbatten, was assassinated by IRA while he was fishing in a boat in 1979.
The meeting with Prince Charles took place at the request of Adams, who said: "I don't have any expectations other than this being an engagement which I hope is symbolic and practical, and will assist that entire process. There's a lot of hurt, a lot of grief, but we have to make sure all our steps are forward."
Adams has never admitted being a member of the IRA, but Sinn Fein has long been considered the political wing of the militant organisation that has been behind much of the republican movements in Northern Ireland in a deeply-rooted conflict that has caused many deaths.
Amidst talk of reconciliation, the meeting also assumed significance because Prince Charles is the colonel-in-chief of the Parachute Regiment, whose paratroopers killed 14 civilians on January 30, 1972, on what is called 'Bloody Sunday' in the history of conflict in Northern Ireland.
Some relatives of those killed during the conflict opposed Prince Charles' visit.
Sinn Fein MPs have long refused to take up their seats in the House of Commons on the ground that doing so would legitimate a constitutional settlement they oppose and would require them to swear allegiance to the Queen.
Queen Elizabeth had set the stage for royal engagement with the peace process in 2012, when she met Sinn Féin's deputy leader Martin McGuinness in Belfast in his role as Northern Ireland's deputy first minister.
In a statement, Adams said: "At the time of the announcement of the visit I said that it should be an opportunity to promote reconciliation and build on the good work done by Martin McGuinness and the English Queen".
"Prince Charles is the Colonel-in-Chief of the Parachute Regiment. A regiment of the British Army that has been responsible for killing of many Irish citizens including in Derry, Ballymurphy, Springhill and other communities across the north".
"But he also has been bereaved by the actions of republicans. Thankfully the conflict is over. But there remains unresolved injustices. These must be rectified and a healing process developed. There is a responsibility on us all to promote reconciliation and seek to promote healing."
Close Story
Personalise your news feed. Follow trending topics