A devotee's gender or caste should not stop their entry into the Sabarimala
Dissent by believers has been central to the reform of religious practice and dogma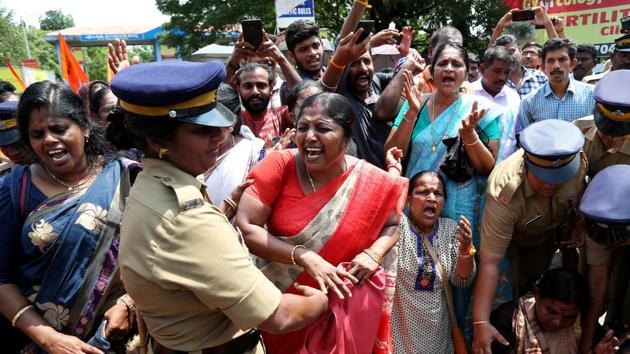 Updated on Oct 16, 2018 02:06 PM IST
The verdict of the Supreme Court of India on women's entry into Sabarimala temple has generated a renewed debate on the status of women within religion as practised and as interpreted. It is useful to historicise this discussion.
The key question is a simple one. Should women be prohibited from entering this temple/place of worship? There is no denying the fact that there is, in this case, discrimination based on gender — women as a class are barred entry for 40 years of their life extending from minority to late adulthood — and it does not affect men in similar ways. The prohibition is "pre-constitutional" — so although ancient custom has the force of law, in the constitutional era, it must pass the test of manifest arbitrariness. Sati and untouchability were ancient customs in the pre-constitutional era. Tied to this last point is the argument on essential features of a religion : a plural democracy must guarantee equality between men and women of a faith. It may need different measures in respect of different faiths, but the court cannot vote with dominant sections within a community of believers. Is exclusion admissible as an essential feature in a constitutional era?
The point is not really whether some women or all women comply with the rule. A proscription cannot be rationalised by an argument that "most" women will comply, nor can it be justified by defining the "denomination" in exclusionary ways. Temple entry must be opened up to persons irrespective of gender and caste. It may well be the case that only those believers self-identifying as male may choose to go. Even here, there is a problem — are men only those identified as "men" by the Thantri's men, or is it all those "self-identifying" as men, which would include transmen? We are today, in a new place for reckoning with gender normativities, lest we forget.
Once that is settled, we could look at the question of women's entry. When a proscription is in place (with threats of an organised, coercive, counter constitutional enforcement) we have no basis for saying that "women of faith" will not enter. The point is to remove all coercion and mob threats and leave the decision to individual women believers. Dissent by believers has been central to the reform of religious practice and dogma.
The right to privacy judgment asserts that the de minimis approach is bad law/rule: numbers do not matter; the possibility of unjust exclusion does matter. Let individual believers decide (a) whether they have the will to undertake the arduous trek; (b) whether they would like to enter the temple (c) whether they agree with the brahmanical male view that a pious woman's mere presence poses a threat to divine celibacy. What are the implications of this investing of sexual desire in deities?
It has been argued that Sabarimala is not to be conflated with temple entry for Dalits. The proscription of temple entry on the basis of ideologies of pollution and impurity are at the core of caste supremacist ideologies and extend on a continuum from women to Dalits and Dalit women. Graded inequality is tied inextricably to graded patriarchies in the caste system.
It is in fact quite shocking that "enlightened" sections of Indian society continue to subscribe to the view that women are inherently polluting. That educated women in Kerala do is doubly tragic, coming as it does after centuries of radical social reform. We have had an anti-caste renaissance that has resisted the bigotry of caste and religious orthodoxy right from the time of the Bhakti movement. Can we forget so easily the figures of Akkamahadevi and Mirabai, both of whom in very different ways challenged masculinist interpretations of faith and spirituality? Or even Tarabai Shinde's brilliant call to women and men alike to understand the basis of women's subjugation in her iconic tract written in 1882, Stree Purusha Tulana? Can we forget Babasaheb Ambedkar's Mahad Satyagraha, the insistence on temple entry for Dalits? Or importantly the struggles led by Narayana Guru, Ayyankali and so many after them? The roots of constitutional morality lie in these struggles.
Kalpana Kannabiran is professor and director, Council for Social Development, Hyderabad
The views expressed are personal
Close Story
Personalise your news feed. Follow trending topics