Fix governance gaps to avoid Pathankot-like security challenges
Updated on Jan 06, 2016 01:02 AM IST
India should have taken lessons learnt from 26/11 Mumbai attacks seriously. But Pathankot attacks revealed severe gaps in governances and lapses in security. Unless the Centre undertakes urgent structural reforms, India will be vulnerable to Pathankot-like security challenges.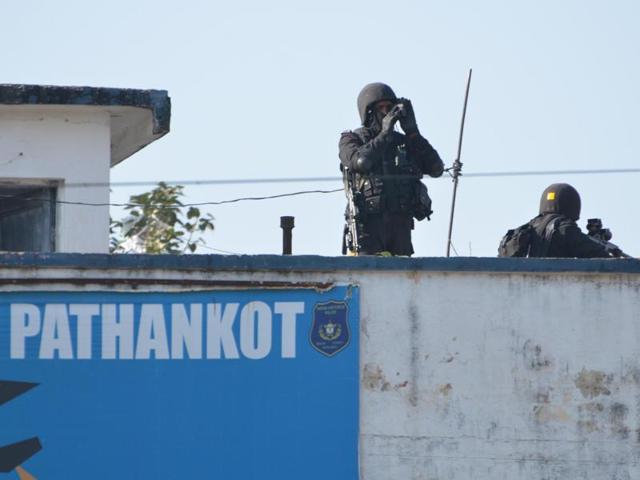 The terrorist attack on the Pathankot air base, which began on January 3, confirms our worst fears that we are yet to learn the lessons of the 26/11 attacks on Mumbai. I had pointed out some of the more glaring lacunae in the security set-up and the governance structure in an earlier column (Lessons of 26/11 must not go unaddressed, HT, November 26, 2013). It is distressing to note that those lacunae still persist.
There continues to be a penchant for ad hoc responses, rather than building upon well-established institutional mechanisms and fully tested drills. The Centre has a crisis management group (CMG). It is headed by the Cabinet secretary and includes key officials from the intelligence, security, defence set-up, and also civil ministries and other agencies. States are expected to have a similar set-up, headed by the chief secretary. The mandate of the CMG is to bring together the collective wisdom and capacities of the State to respond to a crisis and remain engaged till it is over. There are well-established drills to respond to different kinds of crises, which were drawn up after detailed deliberations and based on experience. These are expected to be constantly reviewed and updated.
I know that such a detailed drill, involving multiple agencies, was drawn up for the CMG after the Kandahar hijacking incident in 1999. The value of relying on a well-established institutional structure, in which the lines of authority are clear and unambiguous and each arm of the State knows what it has to do, cannot be overstated. No individual or multiplicity of functionaries, acting in an ad hoc and uncoordinated fashion can deal effectively with a crisis. Neither in the case of 26/11 nor in this current instance was there any mention of the CMG. The Cabinet secretary appears to have been a bystander. If the CMG has been set aside, has any alternative, more efficient institutional structure been put in its place? Are there clearly laid down drills for well-trained personnel at clearly designated agencies to respond to specific crises? Were these seen in Pathankot? No. The deployment of security personnel such as the National Security Guard or the Indian Army appears to have been ad hoc, reactive and mostly uncoordinated.
The CMG structure has a built-in media component. Decisions are taken about regular press briefings and who is authorised to conduct them. In the Iraq hostage crisis in 2004, when three Indian drivers on their way from Kuwait, were kidnapped by Iraqi militants, the then minister of state (external affairs) made press statements twice daily on the basis of inputs from the CMG. These statements then became a guide for the other central ministers as well. We are all aware of the free-for-all media coverage of 26/11, where responsible and senior officials were seen seeking their five minutes of fame on the TV and often revealing sensitive operational details. In the present case, it is fortunate that the Press has been restrained from sensitive coverage but there has been no well-organised and carefully coordinated communication strategy. This has led to premature declarations of closure and sometimes contradictory reporting.
Mumbai in 2008 and Pathankot in 2016 reveal severe structural inadequacies that remain unaddressed. No National Intelligence Agency or the proposed counter-terrorism centre can deliver results if the base remains weak and unreliable. We may have highly-trained professionals at senior levels, assisted by the latest gadgets and technology, but unless they are complemented by well-trained, fully motivated and well-cared for police personnel at the level of a constable, sub-inspector, inspector and deputy superintendent of police, who are our ears and eyes at the local level, we will continue to be at serious risk.
Despite serious terror-related law and order incidents in the past, little has been done to stop recruitment through political patronage, upgrade the training and capacities of the lower ranks of police and, most importantly, improve their living conditions and welfare. VIP security continues to take precedence over public security. While state governments are primarily responsible for law and order and policing, the Centre must find ways and means to persuade them to deliver on long-pending police reforms.
It is likely that the terrorists entered India taking advantage of the several routes that are known to be used for smuggling, in particular drug trafficking. The growing seriousness of the drug problem among Punjab's youth is linked to this. The connivance of elements in our border security forces, who have been compromised because of large pay-offs, is an open secret. I found the same situation along the India-Myanmar border while I was serving in Yangon. Large shipments of contraband goods and drugs made their way into Manipur across the border, controlled by a powerful trade mafia. The local administration, the Assam Rifles and customs personnel deployed at the border were compromised. Should it be a matter of surprise that along with smugglers and contraband, terrorist elements are also able to enter without hindrance and attack targets in India? Even if India was to harden the India-Pakistan border, would the terrorists not move their operations to another stretch of our porous borders? The legalisation and regulation of cross-border trade would be one important means of reducing this threat.
We are now debating whether post-Pathankot India should continue to engage with Pakistan. Instead of this debate, we need to concentrate on how to address the serious institutional and policy infirmities that continue to weaken our defences against cross-border terrorism. There is a larger governance issue here that we continue to duck. Unless there is political will to undertake urgent structural reforms, we will continue to be vulnerable to such security challenges.
Shyam Saran, a former Foreign Secretary, is currently chairman, RIS and senior fellow, CPR
The views expressed are personal
Close Story
Personalise your news feed. Follow trending topics