A tale of friendship and growing up with a lifetime of memories
In the play Anand Express, three teenage protagonists embark on an exhilarating, comic, and emotional journey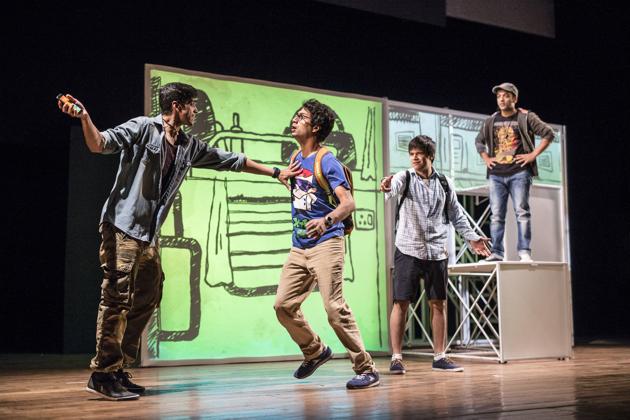 Updated on Jul 08, 2017 08:24 AM IST
Coming-of-age stories are stories that most people relate to. The play Anand Express does the same. It is a story of friendship peppered with teenage emotions, just like the English play by playwright Carl Miller that it is adapted from.
The play, first performed in Mumbai, is set for two shows in Delhi this weekend. It is one of seven plays brought together by Aadyam Theatre for their third season. Three years ago Aadyam, an Aditya Birla initiative, started with a vision to provide a platform to theatre groups in the country. It has scheduled 65 shows in Mumbai and Delhi.
In Anand Express, three teenagers Kenny, Neeraj and Wasim embark on an exciting journey to fulfil their friend Anand's dream, who always wanted to go to Anand in Gujarat – to "be Anand in Anand". But when he dies unexpectedly, the boys take it up as their mission to honour their friend's wish.
Miller, the playwright of the English original, based the play on Ostrich Boys, a 2008 book written by Keith Gray.
In Gray's novel, the teenagers from England travel 261 miles to the tiny hamlet of Ross in Scotland. They believe taking Ross, their friend, to Ross will be a fitting memorial for a 15-year-old who changed all their lives. The three embark on a chaotic, emotional and darkly comic pilgrimage.
"It's a very funny book but it's also about big emotions," Miller had said about Gray's writing in a video posted by the Birmingham Repertory Theatre. "What Keith Gray does wonderfully in the book is that he finds a way to talk about big things that we sometimes shy away from talking about with young people."
Similarly, the three in the play run away with Anand's ashes to put right all that has gone wrong. The race to get Anand to Anand before the adults catch up with them takes the teenage protagonists on
an exhilarating, comic, and emotional journey.
For director Nadir Khan, this is his third play for Aadyam. "It is a new and exciting script. It deals with young people at an age when you haven't seen much. It is a story that everyone can relate to... if you have ever been young," says Khan.
What: Anand Express
When: 7.30 pm, July 8 and 9
Where: Kamani Auditorium: Delhi, Copernicus Marg, Janpath, Mandi House
Tickets: ₹300 to 1250
Nearest Metro Station: Mandi House
Close Story