Asian Games 2018 loss is big setback, road to Olympics is lot tougher now, says hockey coach Harendra Singh
It was a heartbreak for the Indian men's hockey team as they went down to Malaysia 6-7 in the penalty shoot-out in the semi-finals at the Asian Games 2018 on Thursday.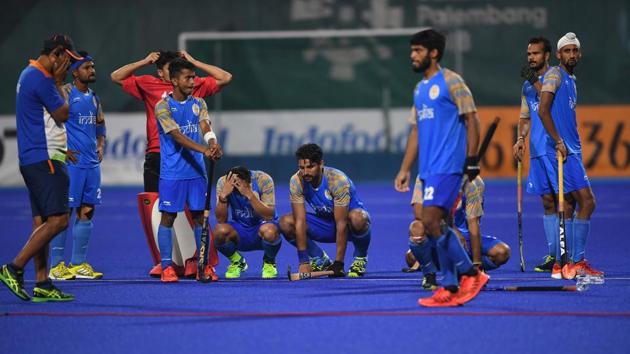 Updated on Aug 30, 2018 09:51 PM IST
Jakarta |
Press Trust of India
Chief coach Harendra Singh slammed the Indian hockey team for making silly mistakes in the Asian Games semifinal against Malaysia and said the 6-7 loss has made Olympic qualification a lot tougher.
Defending champions India were beaten in sudden death after both teams were locked 2-2 in regulation time. A gold medal would have secured India's qualification for the Tokyo Olympics.
"Malaysia are the deserving winners. We committed too many unforced errors and paid the price. We did not keep things simple. We tried to show our Indian skills and by doing that we lost the momentum. It is a big setback for Indian hockey. The road to Olympics is a lot bumpier now. We missed the easiest chance to qualify," said Harendra.
It was only Malaysia who had stunned India in the semifinals of the 2010 Asian Games in Guangzhou.
Asked why Malaysia continues to trouble India, the coach said: "They were only looking to score on the counter and both their goals came from the counter.
"We had a plan to shift and pass but we tried to hold the ball and made parallel passes. That cost us the game. Also, we committed too many unforced errors. It is unpardonable."
READ: Asian Games 2018: India lose to Malaysia on penalties in men's hockey semifinal
Harendra, however, said India were not at all fault in the shoot-out.
"Shoot out is anybody's game. If we would have won, we should not have celebrated. In shoot-out, turning around is a problem. If your centre of gravity is low then it is easier (to turn around), if it is high then it becomes a problem," he said.
India had pumped in a record 76 goals in the group stage. Did it make them complacent?
"I don't think so, we took them as serious practice matches. We never take any team lightly. But this loss is a setback for Indian hockey. Coaches will come and go."
India still have to fight it out for the bronze play-off.
"The boys will have to pick themselves up. There is still a medal at stake," Harendra said.
Close Story