Behind BJP landslide, a sting in Rawat's tale, mass exodus
CM's autocratic style of functioning and Prime Minister Narendra Modi's push in last lap did Congress in.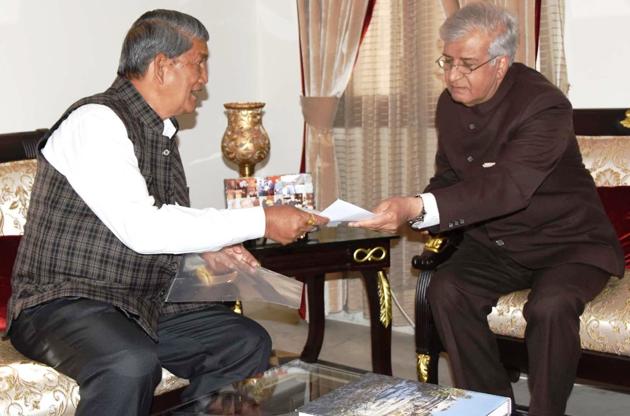 Updated on Mar 12, 2017 01:29 AM IST
Almost a year ago, the BJP was clueless about how to take on chief minister Harish Rawat, who was emerging as tallest leader in the hill state of Uttarakhand.
The Congress leader had a punchline to boot his growing popularity.
"Na khata na bahi, jo Harish Rawat kahe wohi sahi." No ledger, no account, whatever Harish Rawat says is right.
The reputation was busted on Saturday when the BJP won 57 seats, pushing the Congress to a paltry tally of 11.
The genesis of Rawat's downfall could be traced to political instability that shook Uttarakhand last year. The young state was brought under President's rule on March 27, the first in its 16-year history, after nine Congress legislators revolted against the Rawat government and sided with the opposition BJP.
A controversial video — released on March 26 — showed ousted chief minister Rawat purportedly trying to lure dissident Congress lawmakers with money and plum posts to support him in a floor test in the assembly on March 28, which never happened.
The sting continued to haunt Rawat, even after he was reinstated when he won a Supreme Court-monitored trust vote on May 10. The video dented his image and gave BJP a chance to portray him as corrupt.
The BJP win reaffirmed Prime Minister Narendra Modi's popularity. He had addressed four back-to-back rallies in the last leg of the campaign and hit hard at Rawat on corruption charges.
Besides, the exit of almost all top leaders from the Congress weakened the party, though Rawat hardly accepted it. Eight of the rebel Congress MLAs were from the Garhwal region and it reflected in the assembly polls outcome. Of the 30 seats in Garhwal, Congress won just three.
In the Kumaon region, which is the home turf of Rawat, the party managed to win only four of the 20 available seats.
The BJP performed well even in two districts in the plains, which together account for 20 seats and a sizeable number of Muslim voters.
The chief minister contested from two seats — one each in Haridwar and Udham Singh Nagar districts. He lost both. The Congress managed to win only four seats in these districts.
Senior BJP leader BS Koshyari, who is among probable candidates for the chief minister's post, called the election result a personal debacle for Rawat, more than a Congress loss.
"Modiji's appeal among voters ensured victory for the party. Besides, the worst rule of the Rawat government made the foundation for our victory," he said.
Close Story