Punjab exit polls predict close fight between Congress and AAP, SAD-BJP seen decimated
Mar 12, 2017 07:18 PM IST
The ruling Akali Dal-BJP alliance in Punjab is facing a crushing defeat according to the two exit polls predicted on Thursday, but were divided on whether the Congress or the Aam Aadmi Party would form the next government.
The ruling Shiromani Akali Dal-Bharatiya Janata Party alliance was headed for a drubbing in the Punjab assembly elections, exit polls said on Thursday but were split over who would form the next government in the border state.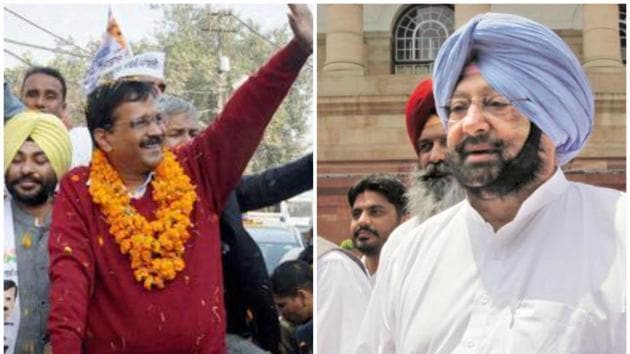 Two exit polls said the fight would come down to the wire between the Congress – which is fighting to come back to power after a decade – and the Aam Aadmi Party, which is contesting its first assembly election in the state. A third poll gave a clear majority to the Congress while a fourth to the AAP.
Stay tuned with breaking news on HT Channel on Facebook.
Join Now
But all four polls agreed that the ruling alliance would be likely down to single digits down from 68 in the 2012 elections.
The India Today-Axis exit poll forecast 62- 71 seats for the Congress , 42-51 for the AAP and 4-7 for the SAD-BJP.
The NewsX-MRC poll gave the Akali-BJP combine seven seats, while the Congress and the AAP were predicted to get 55 seats each.
The Punjab assembly has 117 seats and the halfway mark is 59. Official results are out on March 11.
Read | Exit polls: BJP maybe single-largest party in UP assembly elections
The News24-Chanakya poll announced the Congress and AAP would win 54 seats each and the ruling alliance nine.
The IndiaTV-CVoter poll predicted 59-67 seats for the AAP and 41-49 for the Congress.
The state saw an unprecedented three-cornered contest for the first time between the Akali Dal-BJP combine, the Congress and the Aam Aadmi Party (AAP).
Exit polls have frequently gone wrong in the past, including in Bihar and Delhi in 2015.
For full coverage of Punjab assembly elections, click here.