Poll violence: Akali sarpanch, aides open fire in Tarn Taran, booked for attempt to murder
Updated on Feb 06, 2017 10:10 AM IST
A Congress supporter was injured after Akali workers led by sarpanch Desa Singh allegedly opened fire outside a polling station at Lalu Ghuman village in Tarn Taran on Saturday.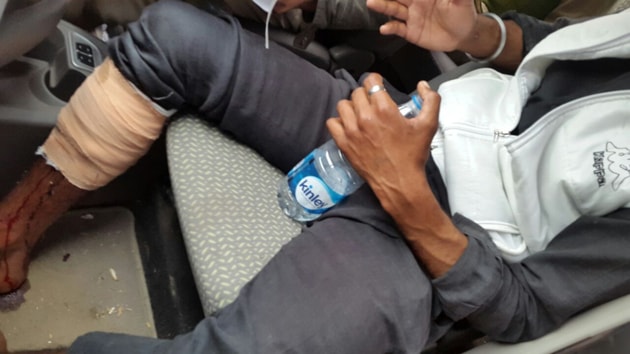 Hindustan Times, Tarn Taran/Ferozepur/Batala/Patiala/Sangrur |
, Tarn Taran/ferozepur/batala/patiala/sangrur
HT Correspondents
A Congress supporter was injured after Akali workers led by sarpanch Desa Singh allegedly opened fire outside a polling station at Lalu Ghuman village in Tarn Taran on Saturday.
Victim Jagjit Singh received a bullet injury in his right leg and was rushed to the local civil hospital, from where he was referred to Guru Nanak Dev Hospital, Amritsar, after being administered first aid. His condition is stated to be stable.
Sources said the SAD sarpanch had brought some people in his vehicle to ensure they voted for his party. When he was collecting their voter slips around 3.45pm, Congress workers reportedly stopped him, accusing him of luring voters with money. This led to a heated argument.
Desa Singh, who was accompanied by former sarpach Sarbjit Singh, allegedly called his aides, who were carrying firearms. As the spat turned violent, the Akalis allegedly opened fire, injuring Jagjit.
Senior superintendent of police (SSP) Harjit Singh, who rushed to the spot, said around 20 persons involved in the incident, including Desa Singh and Sarbjit Singh, have been booked under Sections 307 (attempt to murder, 188 (disobedience to order duly promulgated by public servant), 148 (rioting, armed with deadly weapon) and 149 (unlawful assembly) of the Indian Penal Code (IPC) and relevant sections of the Arms Act.
Other accused named in the first-information report (FIR) are Gurpreet Singh, Malkit Singh, Balram Singh and Bagga Singh, while the remaining are unidentified, he said. All of them are absconding
MISCREANTS FIRE GUNSHOTS IN AIR
Polling at Government Senior Secondary School in Guru Har Sahai town of Ferozepur district was disturbed for some time as two motorcycle-borne miscreants fired four gunshots into the air. Deputy inspector general of police, Ferozepur range, Sukhchain Singh Gill, and SSP Gaurav Garg visited the spot. A case has been registered. The assembly segment also witnessed a clash between Akali and Congress supporters at Mohan Ke Heder village on the night before polling. Eight people were hospitalised with injuries.
FIVE HURT IN CLASHES IN SANGRUR, PATIALA
Two AAP workers were injured after Congress candidate Dalvir Singh Goldy and his supporters allegedly manhandled them at a booth in Sultanpur village of the Dhuri segment in Sangrur segment. Rubbishing the allegation, Goldy said: "I was not present at the spot. AAP created a false video but failed to prove its claim."
Meanwhile, a day after clashing at Khanauri village, Congress and Akali workers again had a scuffle near a government school at Lehra. The incident took place after the polling end around 5.30pm. Workers of both parties threw stones at each other, injuring two people: Amrik Singh of the Akali Dal and Harish Chand, a Congress supporter. Police are probing both the cases.
A Congress worker, Manu Sharma, was rushed to hospital after clash with Akali workers at Samana in Patiala district. Congress leader Gursharan Kaur Randhawa alleged local Akali leader Navjot Singh attacked Manu with sharp-edged weapons. She alleged Navjot and his supporters were regularly threatening Congress supporters. A complaint has been lodged with the Samana police.
CONGRESSMEN INJURED IN ATTACK
In another incident, three Congressmen were injured after allegedly being attacked with sharp-edged weapons at a polling booth in Paddey village under Dera Baba Nanak segment. The injured – Shemsher Singh, Kulwant Singh and Dilbag Singh – alleged they were attacked by Akali supporters led by sarpanch Ranjeet Singh Rana for not joining the SAD.
Meanwhile, voting remained suspended for half an hour at Roopawali and Bolley Ke villages falling under the Fatehgarh Churrian segment after a clash between Congressmen and Akali workers.
Also Read | Supporters of Akali candidate Gabria booked for attacking Simarjeet Bains in Ludhiana
Also Read | AAP candidate booked after clash with Congress workers at Dera Baba Nanak