UP elections: Politicians tour Islamic seminaries and dargahs in hope of Muslim votes
Islamic religious institutions can exercise some influence – at the local, micro constituency level – in political choices. But what is clear is that no religious diktat determines the so-called 'Muslim vote' of UP – as aware citizens with agency, they make up their own mind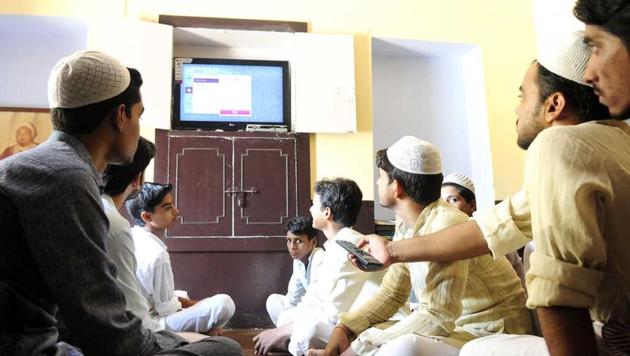 Updated on Jan 21, 2017 12:58 PM IST
It was difficult to get Maulana Subhan Raza Khan, popularly known as Subhani Miyan, to open up.
In the corner of the narrow alley leading up to Dargah-e-Ala-Hazrat, Subhani Miyan discussed the weather, but insisted that he would like to stay away from politics.
In that insistence of Subhani Miyan – a descendant of Ahmed Raza Khan, the founder of the Barelvi sect – lies the formal position of the Dargah. As a theological centre, it would stay away from matters of siyasat (the state).
After much prodding, he says Akhilesh Yadav has done good work – but also slams him for Muzaffarnagar riots. He slips in that under BSP, law and order was better. "I however have nothing to do with politics."
Beneath the formal position lie invisible layers. In the run up to the UP elections, politicians make a beeline to the Dargah – in fact, Subhani's younger brother Maulana Tauqeer Raza Khan has his own political party – Ittehad-e-Millat Council.
Read | UP elections: Is there a 'Muslim vote' factor in Uttar Pradesh?
Politicians also try to visit the influential Islamic seminary Darul Uloom Deoband – even though the institution discourages such meetings during polls. They visit the mosques and madrasas – all in the hope of winning the 'Muslim vote'.
Informal Influence
At the Jama Masjid in Aligarh's Upperkot sits Mohammed Ahmed. He is also the Aligarh secretary of the Jamiat-Ulema-e-Hind.
Ahmed says that the Muslim voter is confused – because of the internal feud in SP, the delay in its alliance with Congress and doubts about whether the BSP still retains its base. "The community will decide at the end." And a key factor then would be determining who is best positioned to defeat the BJP.
And will institutions like the Masjid play a role in the decision? Ahmed says that there would be no formal appeal, but informally, through 'word of mouth', a message will go out about who is the better candidate for the qaum. "The people are more aware now, and things are not as organised as you think. If a message goes out, then it plays some role."
But this message has to be in tune with the general popular mood – if it is off key, its efficacy is limited.
The Agency of Voters
Even when leaders from these institutions send out a message to back a candidate or a party, not everyone listens.
In Bareilly's Old City, Zainul runs a manpower agency.
Does the Dargah influence their decision? "One brother of the family (associated with the dargah) used to be with Congress; the other has his own party; right now, there is an ugly divorce happening in the family. Why should we listen to them?"
Farhan, standing beside him, adds, "Maulanas have no popular support anymore. We decide on our own."
Maulana Khalid Hamid, the city mufti of Aligarh, acknowledges this. "People are well aware that those who may have beards, who may claim to be pious, can sell their honesty for a Rajya Sabha seat. People may hear us out, but they will do what they want."
Read | UP election: Shivpal Yadav in Akhilesh's list, but SP alliance with Cong hits roadblock
A senior cleric of Deoband points out that their graduates are spread across the state and there is no way to pressure the graduates to vote in one direction. There are different factions within institutions like Jamiat-Ulema-e-Hind. "Even if they were united, these organisations do not have the propaganda machinery, the reach, the same number of cadres to take political messages down."
Islamic religious institutions can exercise some influence – at the local, micro constituency level – in political choices. But what is clear is that no religious diktat determines the so-called 'Muslim vote' of UP – as aware citizens with agency, they make up their own mind.
(Part 3 – Crafting a Muslim-Dalit coalition, the BSP strategy)
Close Story