Articles by Ram Nath Kovind
As the Modi government completes nine years, it has helped raise India's global stature and pushed for inclusive development

Published on May 29, 2023 08:39 PM IST
Gandhiji sacrificed his life for the upliftment of the downtrodden, and the empowerment of Indians

Updated on Oct 02, 2020 08:03 AM IST
The coronavirus outbreak has forced us to keep a respectful distance from others. This isolation, self-imposed or medically mandated, can be taken as an ideal opportunity to ponder our journey so far and the future path.

Updated on Mar 20, 2020 05:42 PM IST
New Delhi |
By
Ram Nath Kovind, President of India
In his final sacrifice, he left a constant reminder for us; unconditional love, especially for the Other

Updated on Jan 30, 2020 07:34 AM IST
In the piece, President Kovind writes, "that sense of compassion and fraternity, of civility and mutual dignity cannot be removed from our hopes and dreams for India".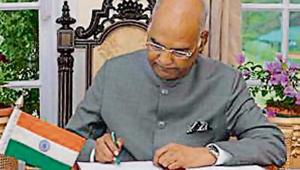 Updated on May 24, 2018 11:56 PM IST