I am not a man-hater, not sure when I became a feminist, says Kangana Ranaut
Updated on Sep 16, 2017 09:16 AM IST
Replying to a query on whether she is a man-hater, Kangana Ranaut refuted the allegation stating that most of her friends were, in fact, men.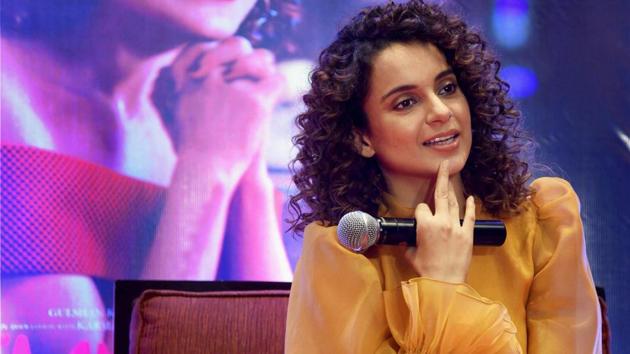 Kangana Ranaut has often grabbed headlines for being involved in spats with her male colleagues in the industry but the actor on Friday said it does not mean that she is a man-basher.
Recently, Kangana spoke openly about her alleged relationship with Hrithik Roshan on Aap Ki Adaalat, where she also took aim at Aditya Pancholi, Adhayan Suman and filmmaker Karan Johar.
When asked that a lot of people saw her as a man-hater, the actor said that was not the case as she had "friends and most of them are men".
"I am not a man-hater. I am not sure when I became a feminist. The whole perception of inequality, and one of being inferior to the other is so bizzare for me to come to terms with that I can't understand it.
"The law of universal equality makes me look like a feminist but I feel feminism is a sorry state to be in for any society. Because you are lacking something and feminism is acting like a medicine to that illness or disease."
The 30-year-old actor said in an ideal society, feminism should not exist at all and there should be equality.
"We should be a healthy society and bring equality. It is bizzare that people believe one section is less than the other. We should not have it (feminism) at all," she said during a conversation with noted journalist-film critic Mayank Shekhar at Jagran Cinema Summit.
On a question about the film industry being male- dominated, Kangana said, "It's something very hurtful, if I say in an upfront way it'll make big headlines."
The actor said it was merely a reflection of how men saw women whether or not they are related to them. Also, she said, it had to do with the hypocritical view of people about sex.
"The way one treats and sees a woman reflects in his relationship with his daughter or wife. The world of glamour is almost like a fantasy land. It's full of magic and opportunities.
"It's always assumed that sex for women is a bad thing. I know a lot of people who have been very protective of their women, it's all about keeping them away from men, opportunities, glamour as they think women might get swayed and have affairs."
The actor said while having sex for a man is a symbol of having fun and living a good life, it is a "bad thing" for women.
Citing the instance, she said, "When it's the affair of their son, you'll hear so many men openly brag about it. 'My son is a casanova, what will he do if not have multiple affairs'. But when it comes to their girls, they are like 'how dare my girl is going to date anyone, how dare she is thinking of joining films and people will watch her in mini skirts.'
"My girl won't wear bikini but I don't mind bikini clad women around me or my son.' It's as petty as that. They feel it's very manly to have such feudal ideologies and flaunt it like that."
Follow @htshowbiz for more
Personalise your news feed. Follow trending topics