Janhvi Kapoor blushes as she reveals what dad Boney Kapoor thinks of Ishaan Khatter
Apr 27, 2019 11:57 AM IST
Janhvi Kapoor and Ishaan Khatter, who are rumoured to be dating, recently received awards together and Janhvi now opens up on what her dad thinks of her 'friend'.
Bollywood actor Janhvi Kapoor made her debut with Ishaan Khatter in Dhadak and has been linked with him ever since. In a recent interview, she talked about Ishaan and how her dad Boney Kapoor takes to the young actor.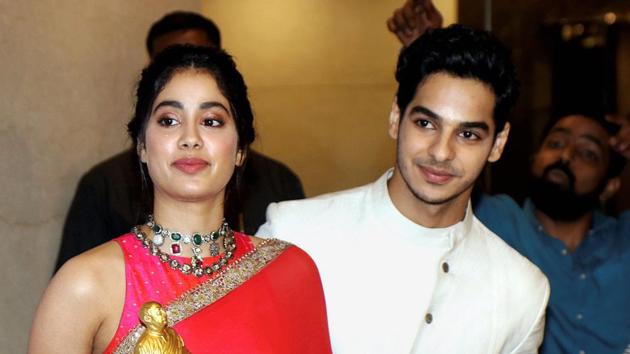 Speaking on Feet Up with Stars season 2, Janhvi said that her love interest is her 'pink bottle' or chuski, as she calls it, and revealed that the bottle has 2-3 Instagram accounts, including one that is called Chuska and Chuski, Chuska being Ishaan's bottle.
Also read: After Avengers Endgame, a definitive ranking of the Marvel Cinematic Universe's 22 films
Asked if her dad Boney screens all the dates she has, Janhvi said, "Yes, except I don't have many dates because dad believes...( no boy) is good enough for me." When asked how Ishaan did in this screening, Janhvi blushed while saying, "huh?" She later added, "Dad thinks Ishaan is a lovely actor and a nice boy. That's all he thinks."
When reminded about her comment 'I love you' on Rajkummar Rao's Instagram post, Janhvi said, "He is so creeped out by me, he doesn't know how to deal with it."
A new teaser for the debut episode of BFFs With Vogue season 3 showed Janhvi taking questions like 'You're Okay With Ishaan Khatter, Tara Sutaria Dating?' and 'Have you ever fallen for a colleague?' Her only reply to these questions was, "This is a trick question." The video is possibly edited to screen out the actual answers and save them for the episode.
Host Neha Dhupia shared the teaser on Instagram featuring the Kapoor sisters - Janhvi and Khushi. Janhvi also talked about her 'wildest fantasies'. She said, "Skinny dipping... sweaty and hot and..." before realising, "My dad's going see this. I'm going to stop."
After making her debut opposite Ishaan Khatter, Janhvi is currently working on her film on Gunjan Saxena, an air force pilot and a Kargil war hero.
Follow @htshowbiz for more