Sanjay Dutt cried for hours after hearing mother Nargis' final message. Listen to the audio
Updated on Jul 13, 2018 06:30 PM IST
An audio recording of Sanjay Dutt's mother, Nargis, leaving him her final message before succumbing to cancer, is being shared online after the success of his biopic, Sanju.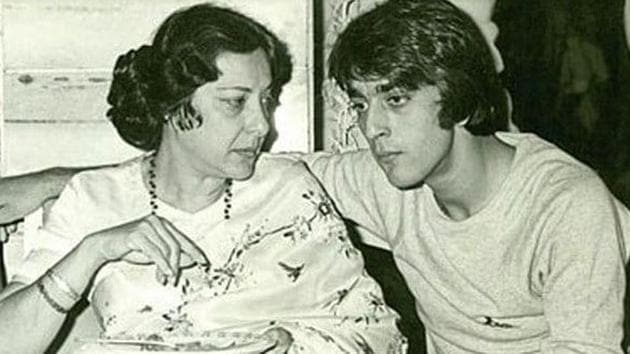 The taped message from mother Nargis that changed Sanjay Dutt's life has been revealed in a resurfaced video from 1991. In the audio -- which was also used as a plot device in Sanjay Dutt biopic Sanju -- helped the actor come to terms with his mother's death. In the video, a mullet-wearing Dutt reflected on his feeling after his mother, the iconic actor Nargis, died of cancer in 1981, only three days before Dutt made his Bollywood debut. The message also forms a part of Sanjay Dutt biopic, Sanju, but the contents were entirely different in Ranbir Kapoor film.
"When my mother died I did not cry, I had not emotions," Sanjay says in the video. But when two years later, a friend of his played an audio recording of Nargis' final message to her son, from her deathbed in New York, Dutt "burst out in tears."
he goes on to say, "I heard my mother's voice when she was at a NY hospital telling me things, how much she loved me, how much she cared for me and I cried for four-five hours."
In the audio recording, Nargis can be heard saying, "More than anything, Sanju, keep your humility. Keep your character. Never show off. Always be humble and always respect the elders. That is the thing that is going to take you far, and that is going to give you strength in your work."
Rajkumar Hirani film Sanju also uses Nargis' last message to Sanjay Dutt as an important plot device. It shows how Sanjay was so addicted to drugs that his mother's death didn't even register wholly. It was only years later that his father Sunil Dutt -- essayed by Paresh Rawal -- played his mother Nargis' -- Manisha Koirala in Sanju -- last tape to him that he decided to fight his addiction. As Hirani said in the film, certain creative liberties had been taken in Sanju and the message was completely different.
Nargis died of pancreatic cancer in 1981. She was 51. Her death sent Dutt down the dark path of drug addiction, a time in his life that has been shown in the recent biopic, Sanju. Sanjay is played by Ranbir in the film, which has renewed interest in the life of the veteran actor. Manisha Koirala plays Nargis.
Sanju has gone on to become a box office success, with close to Rs 300 crore earnings in two weeks of release.
Follow @htshowbiz for more