Priyanka Chopra at UN: We need to come together to build a brave world
Sep 20, 2017 05:20 PM IST
Priyanka Chopra spoke at the UN Global Goals Awards about creating a better and safe world for people.
Actor Priyanka Chopra said that global leaders need to come together to create a better, brave and safe new world.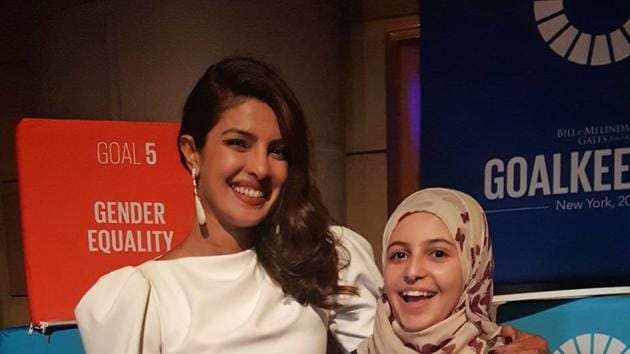 The 35-year-old actor was speaking at the UN Global Goals Awards at the UN General Assembly.
Priyanka took to Instagram where she posted a few pictures from the event and said that it was an honour for her to address leaders of world importance on empowering young girls.
"We all need to come together and work to empower, educate, create opportunities and impart skill sets so that we can be their catalysts for change and to help them build their brave new world. If possible, a safe one where they can live their dreams and laugh together as one," she wrote.
The National Award-winning actor also said that she had the opportunity to meet Muzoon Almellehan, UNICEF's youngest Goodwill Ambassador, who is working to advocate education for Syrian girls.
Priyanka, who is a UNICEF Global Goodwill Ambassador, also presented the Leadership Award to Ria Sharma from India, for her work for acid attack survivors through her organisation Make Love Not Scars (MLNS).
The "Quantico" actor wrote that such award ceremonies "highlight the role girls play in changing their lives and in making progress towards achieving the Sustainable Development Goals (SDGs)".
Follow @htshowbiz for more