Sagarika Ghatge: Female actors don't have to worry that they won't get work after marriage
Updated on May 25, 2018 06:06 PM IST
Actor Sagarika Ghatge insists that female actors no longer have to worry about not getting work after marriage.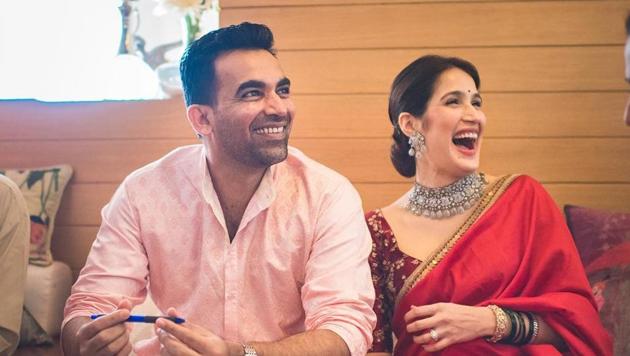 For actor Sagarika Ghatge, who was last seen in Bollywood film Irada (2017), not much has changed after she got married to former cricketer Zaheer Khan in November last year. Except the fact they are getting noticed more by paparazzi, the actor feels that the two are still leading a very "low-key" life.
"I'll be very honest and say not much has changed in our lives. I mean we are still the same people and lead a very low-key life. The only thing that has probably changed is the fact that there is more attention on both of us when we step out. But I think that's part of the culture, and a very Hollywood way, where every move gets attention. However, that isn't really a big deal for me. I mean Zaheer is already used to it, and I, too, don't really see a big problem with it," says Sagarika, who will soon be seen in the Marathi film, Monsoon Football.
The 32-year-old, who debuted with the Shah Rukh Khan-starrer Chak De! India (2007), feels that female actors no longer have to worry about not finding work in the industry after tying the knot.
"Times have changed. There's so much work available today, that female actors don't have to worry whether they will get [same amount of] work after marriage. I'll speak for myself and say that I was offered the Marathi film, Monsoon Football, right after my wedding. So, it's really a myth to say that female actors seldom get work after marriage," she says.
Read| Sagarika Ghatge is married! A look at her enchanting less-is-more wedding style
Read| I'm happy being selective: Sagarika Ghatge
Although the Marathi film will see Sagarika playing football, the actor insists that the film is not centered around sports. "It's very different from Chak De!... Not just in terms of characters, but even the story. Chak De! was a very sports centric film, and the entire story was based around that [only]. This film is more about women's empowerment, and how they play football to achieve that. So, it's not centred around sports, but something else," she adds.
Interact with the author on Twitter/@sammysamarth