How to earn 5 lakh in one night playing poker
Updated on Aug 29, 2016 07:34 AM IST
India's sassiest poker player is pretty, petite and without expressions. And she's making a killing every evening from a house of cards.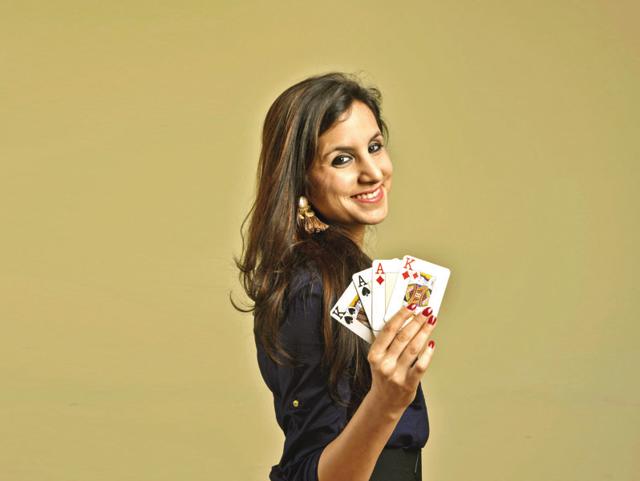 She walks into a casino in Kathmandu with a group of men. Heads turn at once – there are seldom any women around. Simrit Tiwana moves right up to the table, asks for a buy-in, and settles down for a game of poker.
Odd woman out
Rumoured to make as much as Rs 5 lakh in one night of poker, Simrit is 30 and has been a professional player for years. Till not very long ago, she was possibly the only female professional in the game from India. Now, frankly, men really ought not to be surprised when a woman buys into a game – there are many female poker professionals in India, and they're giving the men a hard time, thank you.
Still, just like mansplaining, male patronisation is a thing most poker-playing women have to get used to – "Until they learn to fear you," Simrit laughs.
Like most of us, Simrit started playing cards at Diwali parties, mostly at her home in Chandigarh. Then, when she was 21, friends studying abroad introduced her to poker. "At that time, Facebook had a game called Zynga poker, and there was something else called Playmoney. As I grew more interested, I started playing on a regular basis," says Simrit.
She had no desire to turn pro. She just wanted to be a fashion designer and even started an export house in Delhi, that unfortunately shut down due to lack of funds, so she became a fashion assistant.
Poker was just a game, and a pleasurable one, thanks to trips to Goa and Sikkim where it is legal, unlike Delhi. She played it at casino tournaments and online. Then it struck her – she could make money off poker.
Poker, Simrit argues, is more about skill than luck. And the skill is good, old maths. "As a poker player, everybody is equally lucky or unlucky," says Simrit.
Method behind the moolah
In her life, Simrit plays the cards she's been dealt quite well. She has certain skills and uses them to the best of her ability, though she does wish that card games did not have such a bad reputation so her parents would be happier about her career.
"In the Indian mindset, cards are associated with gambling," says Simrit. "Everyone thinks of fat, drunk, uncles throwing gold rings or cars keys on the table."
That's why, sometimes, she wishes she hadn't told her parents about her career. "Indian parents are very protective," she sighs. "But things are changing now and so many professionals in India are joining the game. Today I don't feel ashamed to tell people about what I do."
She follows some very simple rules when she plays: She ensures her poker money is separate from her money for her life. She doesn't play for high stakes (though she admits she used to). And she does not make rash decisions at the table. "Stakes can go very high, so, if you are a rash player, you'll lose everything soon."
Role reversal
Only people with skewed ideas about what women can and can't do believe that gender matters in a poker game. Real professionals couldn't care less who their opponents are; they just play to win.
"There's serious money involved. When you are at the table, nobody gives a shit."
But women need to have nerves of steel. "If you think poker is glamorous, you are being short-sighted. What's the point if you lose money?"
From HT Brunch, August 28, 2016
Follow us on twitter.com/HTBrunch
Connect with us on facebook.com/hindustantimesbrunch
Close Story
Personalise your news feed. Follow trending topics