"Khichri is my favorite comfort food," says Padma Lakshmi
The Top Chef host talks about scars, body positivity, and her love for ghar ka khana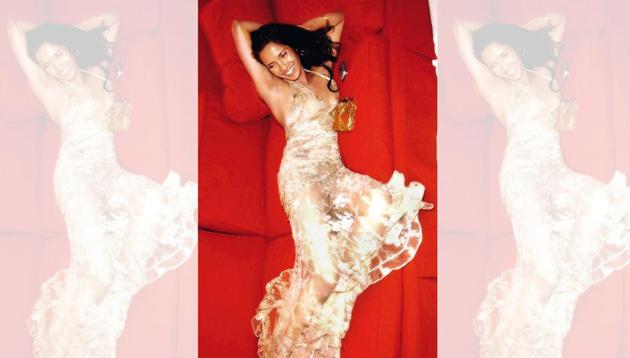 Updated on Jan 20, 2018 11:32 PM IST
What is the sexiest thing about you?
My sense of humour.
One thing about you, you wish you could change...?
I wish I had a more even-toned skin. For instance, I have a lot of pigmentation and stretch marks. Also, every time I get a mosquito bite or something, the marks seem to stay forever. I wish I could get rid of all these.
How has having a daughter changed the way you cook and eat?
It hasn't really. It is just that I don't use as many chillies as before. We both have a similar palate and we love simple non-spicy ghar ka khana. One of our favourites is khichri laden with a lot of vegetables.
If you are packing her lunch, what would you usually pick?
I always try to pack 30 per cent fruits and vegetables, like an orange or carrots. It would have some cashew or almonds and maybe some kind of yoghurt. It would also have cheese sticks which my daughter loves or some kind of namkeen.
How important is it to instil body positivity in kids?
It is incredibly important, especially if you have a girl. And she will learn from what she sees around her. So, this year, I've decided my weight will not be my focus. If I need a bigger dress, so be it. I want to make sure my daughter doesn't measure her worth by her dress size.
How much of India do you still carry with you?
I am not sure how to answer this question even though I have been asked versions of it many times. I am a complete Indian and wherever I live or travel to, although I am influenced by their culture, I will always be an Indian. I have been brought up in an Indian family and I am bringing up my child as an Indian parent.
Which are the eating joints that you love visiting when in India?
One of my biggest joys is to go to the tiffin rooms in South India and eat dosas. I don't like going to fancy places. I think the most interesting dishes are sold on Indian streets. I can't live without pani puris. I love bhelpuri, papri chaat and any kind of chaat for that matter! If I am in Delhi, I make it a point to go to Chandni Chowk to sample chaats.
One Indian food you can't live without?
Khichri! I love it and it's my go-to dish.
You have seen many chefs attempt Indian cuisines on AXN's Top Chef, what is that one common mistake that makes you cringe?
I think people think Indian food must have a lot of masala or just some non-distinctive curry powder that is so muddled you can't taste the subtlety of the spices. I try to tell them we don't use the whole spice box in every dish. We just use mustard seeds and cumin and maybe turmeric. Or others. But not everything at once.
What is the most exotic spice combination you have come across in Top Chef?
In fact I am surprised that most contestants don't experiment much with spices. They use a lot of chillies and acids but when it comes to spices, they usually stick to the basic stuff. I suppose this is also because they don't get much time to develop complex spice blends during the show.
What would a classic Padma Lakshmi cocktail have?
Probably something with tequila!
Your biggest red carpet goof up...?
At the 2009 White House Correspondents' Dinner where I didn't realise how sheer my dress was until the cameras started flashing. I was totally embarrassed. But Natalie Portman had a similar wardrobe malfunction that night, so at least I had company!
Three things that not many people know about you...?
I am a good boxer, a great roller skater and I love to play charades!
Follow @ananya1281 on Twitter
From HT Brunch, January 14, 2018
Follow us on twitter.com/HTBrunch
Connect with us on facebook.com/hindustantimesbrunch
Close Story
Personalise your news feed. Follow trending topics