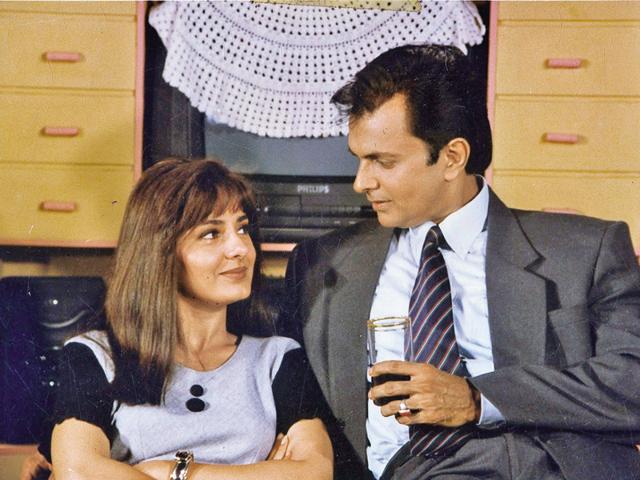 "There was some audacity in TV content back then," says director Mahesh Bhatt
Director Mahesh Bhatt on how Swabhimaan was a big success on DD, and launched the careers of many actors like Rohit Roy, Sandhya Mridul, Ashutosh Rana and Manoj Bajpayee.
By Satarupa Paul
UPDATED ON JAN 09, 2016 08:01 PM IST
You were already an acclaimed filmmaker when you made Swabhimaan. Why did you move to television?
In the late 1980s, I discovered the power of the idiot box with films for television. This paved the way for a new kind of entertainment. In the early 1990s, my output of work was quite staggering. My films, Aashiqui, Dil Hai Ki Manta Nahi, Hum Hai Raahi Pyaar Ke, were all successful. In those days, working in TV was looked upon with disdain. But to me, it was the window through which my movies could reach more people.
Swabhimaan was the brainchild of Amit Khanna. He and I and Shobhaa De got together and came up with it. I quite enjoyed the long run it had.
Was TV more gutsy then?
Of course! There was some audacity in TV content back then. I made telefilms like Janam (which dealt with illegitimacy) and Daddy (the story of a young girl dealing with her father's drinking problem); serials like Phir Teri Kahaani Yaad Aayi (about schizophrenia), and Swabhimaan had that Shobhaa De zing about people in high places and power struggles.
Do you think Indian TV has regressed?
Not only Indian TV, but the entertainment landscape on the whole has regressed. There is an elephant in the room that no one wants to address. There is a narrative crisis. You have a tsunami of audio visual content hitting you.
But there is demand for good content...
We say that we want different stuff, but the ground reality is different. There's something about soaps – the serials look like the cereals you consume every morning for breakfast; it's the tyranny of sameness.
That's the tragic part for anybody looking for content as brave as anything coming from the West. In the metros, you can rave about House of Cards, Narcos, Fargo and all. But do you think that in the outskirts of Kanpur, television will be able to penetrate with this kind of content? No. They want very hard, loud, dumbed-down entertainment.
Then how did good content in the 1980s and 1990s work with the masses?
I think it was mostly the cinema-going audience that was watching TV at the time; their tastes were evolved. They were not in the attention-deficit age, where they had to be numbed and assaulted every minute by a moving camera and background scores.
Do you plan to give TV another shot?
Well, there's something in the pipeline already. I have written for my protégé Gurodev Bhalla, who produced and oversaw Udaan… it's the quest of a young girl dealing with the dark dysfunctional narratives of a home. We tried something with Sony called Dil Ki Baat Dil Hi Jaane (starring Ram Kapoor), but it was a failure. It dealt with euthanasia, but people don't want to confront grim issues through TV, which they consider an entertainment device.
From HT Brunch, January 10, 2016
Follow us on twitter.com/HTBrunch
Connect with us on facebook.com/hindustantimesbrunch
Close