99.3% demonetised notes came back, concedes Reserve Bank of India
Aug 29, 2018 10:04 PM IST
The central bank took nearly two years to calculate and destroy the banned notes. The tedious process included day and night shifts, working 6 days a week and using 15 note-counting machines.
The Reserve Bank of India (RBI) has conceded for the first time that almost all the banknotes invalidated in November 2016 have returned to it in the form of deposits, handing the Opposition fresh ammunition to target the government ahead of a string of state polls leading to the 2019 Lok Sabha elections.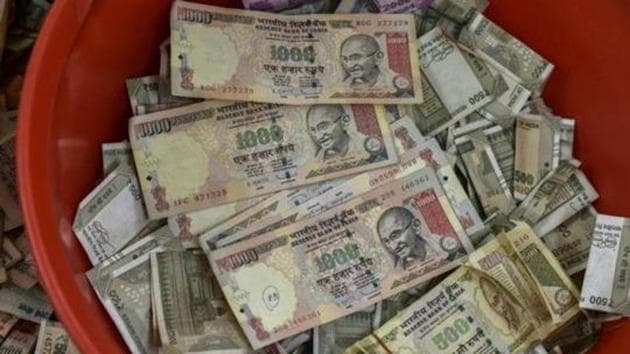 Prime Minister Narendra Modi rendered invalid Rs500 and Rs1,000 notes worth Rs15.44 lakh crore by value from the midnight of November 8-9, 2016, in an unprecedented move the Bharatiya Janata Party (BJP)-led government described as a crackdown on black money, or untaxed, unaccounted cash stashed away by dishonest individuals, terror financing and counterfeit currency.
In its latest annual report released on Wednesday, RBI said as much as 99.3% of the junked banknotes by value, or Rs 15.3 lakh crore, had returned to the banking system, confirming what had been widely perceived by economists and banking experts a long time ago: that much of the money had found its way back or that some individuals had found ways of laundering their black money.
Former finance minister P Chidambaram fired the first shot in a new political slugfest triggered by the long-pending report, released after a painstaking audit of the banknotes that were returned by citizens who had been given until the end of 2016 to deposit old high-value notes in their possession.
"So, government and RBI actually demonetised only Rs 13,000 crore and the country paid a huge price," Chidambaram said in a Twitter post. "Over 100 lives were lost. 15 crore daily wage earners lost their livelihood for several weeks. Thousands of SME (small and medium enterprise) units were shut down. Lakhs of jobs were destroyed."
The reference to lives lost was to the purported deaths of people who had to queue up at bank branches for hours together in the days following demonetisation.
The central bank took nearly two years to calculate and destroy the banned notes. The tedious process included day and night shifts, working 6 days a week and using 15 note-counting machines.
"The processing of SBNs (Specified Bank Notes) has since been completed at all centres of the Reserve Bank. The total SBNs returned from circulation is `15,310.73 billion," the RBI declared in its report.
The banking regulator mentioned a silver lining to demonetisation, which the government later justified as a way of promoting cashless transactions.
"Monetary transmission from the policy rate to banks' deposit and lending rates improved during 2017-18, facilitated by the demonetisation-induced slosh of liquidity," RBI said.
It added that the Indian economy remained resilient even "in the face of several shocks during the year – demonetisation's after-effects; GST (goods and services tax) implementation; spillovers from global sell-offs in bonds and equities; bouts of capital outflows; frauds in domestic banking system amidst mounting loan delinquencies and capital constraints; and the ongoing terms of trade erosion."
The government has steadfastly defended its decision to scrap high-value notes, saying data collected in the exercise would come in handy in tracking suspicious transactions and checking tax evasion. Demonetisation was followed up by a slew of measures including a law against benami property and steps to prevent generation of black money and its diversion to foreign accounts.
BJP spokesperson Sambit Patra on Wednesday said demonetisation had helped in the formalisation of the economy.
"In 2017-18, the net collection of direct taxes increased by 18%. Collection for 2016-17 was also higher than the previous year. More than 3 lakh shell companies have been closed. Another 50,000 are in the pipeline. This is a big step towards formalisation of Indian economy," said Patra.
The demonetisation exercise has achieved its objective, said economic affairs secretary Subhash Chandra Garg on Wednesday. He added that cash in circulation in the economy had decreased after demonetisation, indicating the success of the exercise in moving Indians towards a digital economy.
"I think the process of demonetisation is now complete. All the demonetised notes have been returned, notes worth Rs 10,000 crore have not come back. There are some amounts stuck in court cases and some with law enforcement agencies. But the amount involved in those is very small," Garg said.
"There is now Rs 3-4 lakh crore less in the system than prior to demonetisation," he added.
Refusing to get dragged into the debate about the intended objectives of demonetisation, Garg said: "Cash in hand is not the only form of black money. Black money is also in the form of benami assets".
"One of the many advantages of demonetisation was that when the new notes came they virtually weeded out all fake currencies," he added.
Demonetisation has cast its shadow on political discourse and state election campaigns in the country since November 2016. The BJP leadership has accused the opposition Congress of encouraging corruption and ignoring the interests of the poor. Former prime minister Manmohan Singh, himself an economist and former RBI governor, said the note ban was an exercise in ""monumental mismanagement".
Congress' chief spokesperson Randeep Surjewala demanded an apology from Prime Minister Modi. Communist Party of India (Marxist) general secretary Sitaram Yechury said: "Every single claim of Modi and his ministers about the Indian economy has proven to be wrong. He promised 10 crore jobs 5 year ago, but (there has been) all-round loss of jobs across the country since 2014. No amount of spin or PR can cover this disastrous failure of Modi."
Delhi chief minister Arvind Kejriwal demanded the release of a white paper on the note ban. "People suffered immensely due to demonetization. Many died. Business suffered. People have a rt to know - what was achieved thro demonetization? Govt shud come out wid a white paper on the same," he said in a Twitter message.
One economist noted the multiple objectives the government had set out to achieve through demonetisation and its "shifting goalposts."
"While a few objectives were achieved, the economy paid a high price for it, especially the MSME (micro, small and medium enterprise) and NBFC (non-banking financial company) sectors," said Abizer Diwanji, partner and national leader of the financial services practice at consulting firm EY.
"Exciting news! Hindustan Times is now on WhatsApp Channels
Subscribe today by clicking the link and stay updated with the latest news!"
Click here!