How Vicky Gounder went from sports ground to the cesspit of crime
Vicky Gounder was killed in an encounter on Friday evening near the Punjab-Rajasthan border.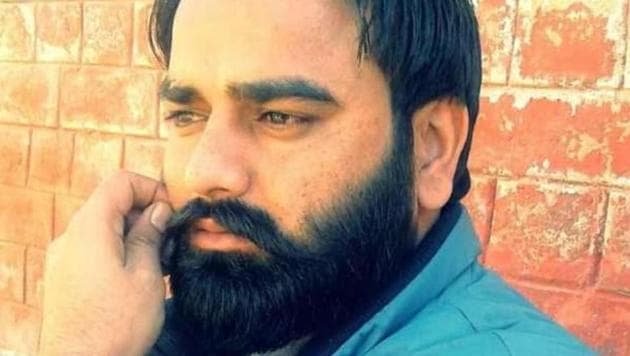 Updated on Jan 27, 2018 10:52 PM IST
Vicky Gounder, 29, who was shot dead along with two other gangsters by the Punjab police on Friday near the Rajasthan border, was a state-level discus thrower before he plunged into a world of crime to become the state's most wanted man.
Born in a middle-income farming family in Sarawan Bodla village of Muktsar district, Harjinder Singh Bhullar was the eldest of three children of Mehal Singh. He was known as 'Vicky' in primary school. The tag 'Gounder' was suffixed because he used to spend most of his time in the 'ground' (playground).
In 2004, his father sent him to the Government Arts and Sports College in Jalandhar with the hope that the teenager would become an international discus throw champion. He won some medals in the competitions in the college.
But the college where he should have honed his athletic skills instead became the launchpad of his career in crime. Police say he stayed at the college till 2007-08. In 2007, the Border Security Force (BSF) even offered him the post of a head constable which he turned down.
Police officers who tracked Gounder said he became friendly with a small-time criminal Navpreet Singh alias Lovely Baba, who was also a trainee at the college. Baba introduced Gounder to Jalandhar-based gangster Prema Lahoriya (killed with Gounder on Friday) and the trio became friends. Lahoriya was a close friend of another gangster named Sukha Kahlwan.
Police say Gounder's interactions with criminals sparked a fascination towards the world of gangs. By 2008, his athletic dreams were over and he snapped ties with the family.
In 2010, internal rivalry and clash of egos led Kahlwan to kill his one-time friend Baba. A furious Gounder swore he would kill Kahlwan to avenge his friend's death. Lahoriya sides with Gounder.
In 2012, his father Mehal Singh disowned Vicky. Mehal Singh's two daughters are married.
In January 2015, he finally avenged his friend Baba's death with an audacious hit, killing Sukha Kahlwan when he was being taken back to the Nabha jail after a court hearing in Jalandhar. As if to advertise his ferocity, Gounder also filmed the killing and danced around the body of Kahlwan while holding policemen hostage at gunpoint near Phagwara.
But, by the end of the year, his luck ran out and he was arrested in Tarn Taran in December 2015 for killing Kahlwan and was sent to the Nabha jail. He was also a co-accused in the murder of gangster-turned-politician Jaswinder Singh Rocky, who was gunned down near the tourist resort of Timber Trail in Himachal Pradesh's Parwanoo.
Gounder hardly spent a year in prison. In November 2016, Lahoriya and other gang members impersonated policemen for a jailbreak, and freed Gounder along with four gangsters and a Khalistanti terrorist. Gounder was the last of the criminals still absconding after the jailbreak.
He reportedly had hideouts in Jalandhar, Moga, Mansa, Gurdaspur in Punjab besides Sri Ganganagar in Rajasthan and Yamunanagar in Haryana. He was spotted in Mansa in December 2016 and again in February 2017, police said. Cops got a tip-off that he was hiding at an NRI's house in Moga but he managed to flee minutes before the police team arrived. In April 2017, he shot dead three members of a rival gang in Gurdaspur as he became active in Punjab's Majha region. Gounder once even posted on Facebook that he was enjoying life at a spa in Bangkok. Police called it a bluff.
DGP (intelligence) Dinkar Gupta said police got a tip-off on Friday that he was hiding along with Lahoriya near the Punjab-Rajasthan border. "We were on his trail for months. When we raided the hideout, Gounder, Lahoriya and a third gangster (unidentified) started firing at the police team. Our men fired back and the three gangsters were shot. Gounder and Lahoriya died on the spot, while the third man died at the civil hospital in Abohar nearby," Gupta claimed.
Gounder was using multiple Facebook accounts, operated through associates in various countries, including the Gulf nations, Cyprus and Germany, said the DGP, adding that his most followed account had more than 1 lakh followers and, collectively, Gounder had around 4-5 lakh Facebook followers.
He was also under scrutiny for links with militant elements and Pakistan's spy agency ISI. Recently, as per the Punjab DGP, he got delivery of an automatic assault rifle from Pakistan through his close associate and handler, Ramanjit Singh alias Romi, who is also wanted by Punjab Police and against whom a red corner notice has been issued. The possible role of Romi is also being examined in targeted killings in Ludhiana and Jalandhar in the last two years.
Close Story
Personalise your news feed. Follow trending topics