Six patients die at Amritsar pvt hospital gasping for oxygen, probe begins
Updated on Apr 25, 2021 03:02 AM IST
Civil surgeon says the hospital was authorised to admit only Level-2 Covid-19 patients but it admitted Covid patients with severe symptoms as well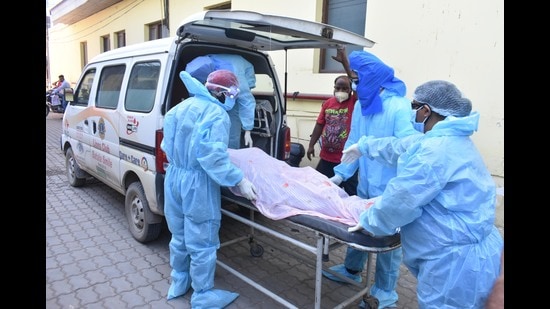 In the first such incident in Punjab, six critical patients, four of them suffering from Covid-19, died on Saturday morning after the medical oxygen supply dried up at Neelkanth Multispecialty Hospital in Amritsar.
Amritsar civil surgeon Dr Charanjit Singh said the hospital was authorised only to admit only Level-2 Covid-19 patients but it admitted four level-3 patients without informing the health department. As ordered by chief minister Captain Amarinder Singh, Amritsar deputy commissioner constituted a two-member inquiry panel with instructions to submit a report within 48 hours.
"Due to the shortage of cylinders in the district, oxygen supply at Neelkanth Hospital dried up this morning, resulting in the death of six patients. Of the dead, two were from Gurdaspur district, one from Tarn Taran and three from Amritsar district. All six patients were in a critical condition when they were admitted to the hospital on Thursday or Friday," Amritsar deputy commissioner Gurpreet Singh Khaira said.
During the incident, around 12 Covid-19 patients were being treated at the hospital. As per hospital authorities, around 25 oxygen cylinders were supplied to the Hospital on Friday, against the requirement of 50. At around 1am on Saturday, the oxygen dried up and the six patients, including a 28-year-old Gurdaspur man, died around 3am, after gasping for two hours. The other deceased were above the age of 48.
Family members of those died raised slogans against the district administration and hospital authorities. They blamed the hospital authorities for charging a big fee and still not providing basic life-saving facilities. "My 80-year old mother-in-law was among the dead. We were paying ₹20,000 per day since Thursday to the hospital. The hospital authorities forced us to sign consent form saying that the hospital is not responsible if it runs out of oxygen. Strict action should be taken against them," said Vicky of Amritsar.
BLAME GAME BEGINS
The private hospital authorities blamed the district administration for the incident, saying they had conveyed the shortage of oxygen cylinders on Friday itself.
Neelkanth Hospital managing director Sunil Devgan said, "We had been seeking oxygen supply for the last 48 hours but the administration bought the oxygen cylinders for government hospitals. Administration is responsible for the shortage in private hospitals."
Khaira said, "AT a meeting on Friday, we had told the owners of private hospitals not to admit any critical patient if they are short of oxygen. We could arrange only a few cylinders for GMCH, where more patients are admitted. If Neelkanth Hospital was short of supply, they should have referred the patients to other hospitals."
The civil surgeon also said the hospital didn't have any senior doctor on night duty in their Intensive Care Unit (ICU).