First monkeypox case in Delhi: 'Patient's contacts not displaying symptoms'
Jul 26, 2022 12:59 AM IST
At least 13 people who came in contact of the 34-year-old man from west Delhi who tested positive for monkeypox on Sunday, have not shown any symptoms yet, health department officials said on Monday
At least 13 people who came in contact of the 34-year-old man from west Delhi who tested positive for monkeypox on Sunday, have not shown any symptoms yet, health department officials said on Monday. They added that 10 of the 13 contacts are family members while others include the doctor that treated him and his attendants.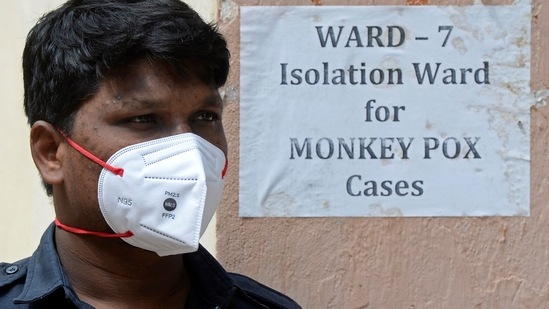 Doctors treating the patient at Lok Nayak Hospital said on Monday that he first developed a fever that lasted for five days, after which skin lesions appeared. They said that while the patient does not have a history of foreign travel, he went on a trip with his male friends to Himachal Pradesh on June 26. The fever began on July 5, they added.
"These eruptions started getting worse and became full-blown skin lesions. They first appeared on his abdomen, thorax, arms and also on his palms. He has no fever now and the skin lesions are also getting better. His vitals are also normal," a senior doctor at the hospital said asking not to be named.
"Currently, only one patient is admitted to the isolation ward. The symptoms of the people who were in touch with him are being monitored by the authorities but we do not know of anyone showing any symptom," said another doctor from Lok Nayak Hospital -- the nodal facility for monkeypox in the national Capital.
On Monday, the director general of health services, Delhi government, also issued a fresh order directing all hospitals and health facilities to immediately notify any suspected case of monkeypox to the district surveillance unit concerned. The patient should also be referred to Lok Nayak Hospital for isolation, the order said.
"As communicated earlier, it is mandatory for all health facilities to notify any suspect case of monkeypox to the concerned district surveillance unit. A ward at Lok Nayak Hospital is reserved for isolation of suspected/confirmed cases of monkeypox, therefore any such case must be referred and isolated at Lok Nayak Hospital in coordination with district surveillance officers," the DGHS order said.
A Delhi government official said that currently, the government has reserved a six-bed isolation facility at the nodal hospital. The government will increase capacity as and when required, the official added.
Delhi on Sunday confirmed its first case of monkeypox after a 34-year-old resident of west Delhi tested positive for the virus. The patient was admitted to Lok Nayak Hospital on Friday, after a history of fever and skin lesions. His samples were sent to the National Institute of Virology (NIV), Pune, which confirmed the infection on Sunday. This is the fourth case of monkeypox in India, and the first case where the patient does not have a foreign travel history, indicating the possibility of local transmission.
Monkeypox is a viral zoonosis (a virus transmitted to humans from animals) with symptoms similar to those seen in the past in smallpox patients. However, according to the World Health Organization (WHO), it is clinically less severe than smallpox. According to the latest guidelines issued by the union health ministry, monkeypox can be transmitted through direct contact with bodily fluids or the lesion of the infected person. It can also be spread through indirect contact with lesion material, such as through contaminated clothing or linen.
Dr Jugal Kishore, head of the department of community medicine at Safdarjung Hospital, said that unlike Covid-19, the most vulnerable population in case of monkeypox is young people—primarily those born after 1980. The symptoms are similar to smallpox but it might not be as deadly or transmissible. Smallpox was eradicated from India in 1977.
"The older population who has received the vaccination for smallpox are slightly more protected, even though there are instances from western countries that even those who received smallpox vaccinations are being infected with monkeypox now. However, their symptoms might not be as severe as someone younger who has not taken the vaccine. The isolation for a monkeypox patient should be around 20 days, till the scabs are completely healed," Kishore said.
"Exciting news! Hindustan Times is now on WhatsApp Channels
Subscribe today by clicking the link and stay updated with the latest news!"
Click here!