Kejriwal launches social security scheme for families affected by Covid-19
Published on Jul 06, 2021 02:23 PM IST
The "Mukhyamantri Covid-19 Pariwar Aarthik Sahayata Yojana" was notified by the Delhi government on June 22. Under it, an ex-gratia of
₹
50,000 will be provided to families who have lost their loved ones to Covid-19. An additional pension of
₹
2,500 per month if the deceased was the family's sole breadwinner.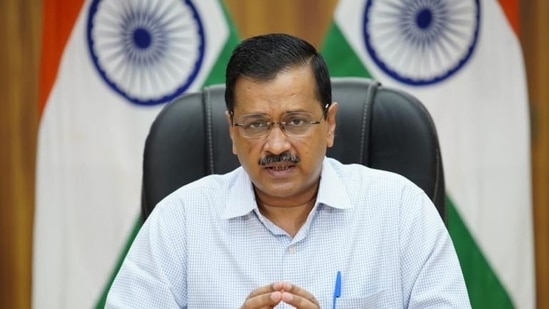 Delhi chief minister Arvind Kejriwal on Tuesday launched the "Mukhyamantri Covid-19 Pariwar Aarthik Sahayata Yojana", a social security scheme for families affected by the coronavirus disease (Covid-19) pandemic. Kejriwal said the Mukhyamantri Covid-19 Pariwar Aarthik Sahayata Yojana was launched as many children lost their parents and families lost their sole breadwinners to Covid-19.
"India has seen two waves of the Covid-19 pandemic. The first wave was in 2020 and the second was in April this year. But in Delhi, this was the fourth wave. Last year, the first wave hit Delhi in June, second in September and third in September. However, the fourth wave was extremely severe. There would be very few families which didn't get infected during this wave," Kejriwal said while addressing the launch event virtually.
The scheme was notified by the Delhi government on June 22. Under it, an ex-gratia of ₹50,000 will be provided to families who have lost their loved ones to Covid-19. An additional pension of ₹2,500 per month if the deceased was the family's sole breadwinner.
The notification also stated that the deceased and the dependent should be from the national capital. "Death should be certified as Covid-19 death or death within one month of testing Covid positive and verified by the health department as Covid death," it added.
Kejriwal also pointed out on Tuesday that orphans, including those who lost one parent to Covid and the second parent due to any other reasons, will be given financial assistance of ₹2,500 per month till the time they attain the age of 25.
Representatives will visit the homes of the affected families and help them in documentation work, he said.
"I want to tell all such representatives not to conduct scrutiny of applications. If the families lack any document, we will help them obtain it. We have to make sure that we make this happen. Don't find faults with their documents... don't make them unhappy, encourage them," the Delhi CM further said.
Close Story
Gehlot faces criticism from section of Congress leaders over Dalit boy's death

Rajasthan chief minister Ashok Gehlot has faced criticism from a section of his party leaders over the death of a nine-year-old Dalit student in Jalore apart from opposition Bharatiya Janata Party. The boy died after a teacher allegedly thrashed him for drinking water from a pot meant for upper caste students and teachers. Congress lawmaker Panachand Meghwal sent his resignation to Gehlot on Monday citing rising cases of atrocities against Dalits.

Five of a family killed in road accident near Pune

Five members of a family were killed and one was seriously injured in a road accident near Ranjangaon MIDC (Maharashtra Industrial Development Corporation) on Pune- Ahmednagar highway near Karegaon, officials said. Police officials said that the accident took place after a container coming from the wrong side rammed into a car, at 1:30 am on Wednesday. All these are residents of Avane Budruk village in Ahmednagar district. Ranjangoan MIDC police are investigating the case.

Bengaluru crime watch: Gambling ring busted; 13 caught, over ₹1 lakh seized

Bengaluru City Crime Branch on Wednesday arrested as many 13 persons in connection with an illegal gambling ring and seized over Rs 1 lakh from them. The incident occurred within the Kodigehalli police station limits. The identities of the accused have not been revealed but CCB officials said the accused were running 'andar bahar' games in the gambling den. Andhar Bahar is a game of chance played with a standard deck of cards.

Karnataka Cong requests officials to remove Savarkar's posters in Udupi

The Congress party in Udupi district requested the police and district administration to remove Vinayak Damodar Savarkar's posters installed on the backdrop of Independence Day celebrations. Their move comes after Karnataka Police on August 15 imposed Section 144 in parts of Shivamogga district after a clash over Savarkar and Tipu Sultan's banners at Ameer Ahmed circle on Independence Day. Karnataka Home Minister Araga Jnanendra said nobody should take the law into their hands at any cost.

Bihar: 27 kanwariyas injured after bus hits divider near Purnia

At least 27 kanwariyas were injured, eight of them seriously, when a bus bound to Kishanganj from Deoghar hit the divider on NH-31 near Kajra bridge under Dagarua police station about 15km from Purnia district headquarters on Wednesday morning. Station house officer, Dagarua Ramchandra Mandal claimed the accident took place due to the negligence of the bus driver. An injured, identified as Ghan Shyam Pandit, said they were returning from Deoghar and were on their way to Chhatarghat in Kishanganj.
Personalise your news feed. Follow trending topics