Unusually hot April sees fire calls in Capital jump 26% from last year
Apr 29, 2022 12:04 PM IST
According to the data, a total of 3,657 fire calls have been received in this month till April 27 while 2,890 had been received in April 2021 till the corresponding date.
Amid soaring temperatures in the national capital, the number of fire-related calls to the Delhi Fire Services (DFS) in April so far is over 26% more than the same period last year, data shared by the department showed.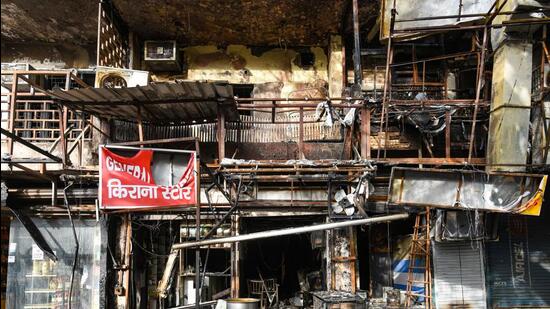 DFS data showed that the agency received 3,657 fire calls between April 1 and 27 this year, up 26.5% from 2,890 in the corresponding period last year. This number is also nearly double the number of calls (1,627) made in 2020, though DFS officials said this was primarily because of the Covid-induced nationwide lockdown during that time, when all non-essential services and establishments were shut. However, the number of calls is nearly 37% higher this year, compared to 2,672 in 2019, the data showed.
A heatwave continued to rage across vast swathes of India, and officials said it will become more intense over the next five days.
Experts said the increase was likely due to the heatwave that has gripped the Capital for much of April.
DFS chief Atul Garg said, "It's a trend worldwide that fires increase in summers, especially as compared to winters. In summers, the temperature is already high so a small spark can cause fire in summers."
He added that the increase in fires is comparatively lower in coastal areas, because of the humidity.
"Delhi witnesses dry heat, which makes the areas more prone to fires," he said.
D Saha, former head of CPCB's air laboratory, said, "This is a characteristic of dry summers generally seen before May, where the absence of moisture in the air, coupled with high temperatures is likely to cause fire incidents, particularly forest fires to break out easily. This is likely to be a factor behind the landfill fires too."
For firefighters in Delhi, the increasing number of blazes has made an already dangerous job much riskier.
Sushil Sehrawat, a 43-year-old fire operator who has been in the service since 2009, said that when they leave for work on usual days, they carry a few litres of bottle. But during intense firefighting operations, he said they often don't find the time to stay hydrated.
"When we are conducting an operation, especially in summers, getting thirsty is natural. But an operator cannot leave till there's an official who can relieve them. There have been times when we are working for two hours straight without water even when we are thirsty because the situation demands it," he said.
Fighters were allotted a fresh bunch of suits around two years ago, which officials said are more protective than the older iterations, but are also significantly hotter to keep on.
"The shoes are very strong as well and while they protect us from sharp objects or other harmful material while walking, water enters the gum boots and impacts the skin," said Devender Kumar (46), a firefighter with the service.
Enjoy unlimited digital access with HT Premium
Subscribe Now to continue reading