Gurugram RTA, NHAI to identify and close illegal exits to curb traffic congestion
Feb 01, 2023 12:02 AM IST
The regional transport authority (RTA) of Gurugram and the National Highways Authority of India (NHAI) are working together to identify all illegal exits on NH-48 and to get these closed at the earliest so as to curb accidents and snarls, officials in the know of the matter said on Tuesday
The regional transport authority (RTA) of Gurugram and the National Highways Authority of India (NHAI) are working together to identify all illegal exits on NH-48 and to get these closed at the earliest so as to curb accidents and snarls, officials in the know of the matter said on Tuesday.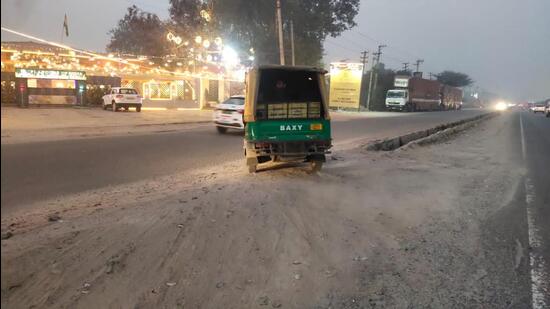 RTA officials said they have carried out a survey to identify such exits and sent a report to NHAI about 10 days ago, asking the highways authority to get these exits closed either by reconstructing the medians themselves or getting the violators to do so.
Officials said these exits have been created over a period of time by petrol pumps, roadside hotels, restaurants and other establishments by removing or demolishing the medians or digging up the highway using earthmovers so as to boost their business by providing long distance commuters easy access to their establishments.
RTA officials said the issue was first raised by Haryana transport commissioner Navdeep Singh Virk in a virtual meeting held in December last year. They said directions were given in the meeting to get such violators booked and FIR registered against them for damaging national property (highway).
"Virk ordered the closing of all illegal exits, especially those on highways, and also directed that action be taken against violators. He ordered that surveys be carried out to identify such exits and action be taken in tandem with NHAI officials," the RTA official said, asking not to be named.
Bharat Bhushan, motor vehicles officer of Gurugram, said he found at least 32 illegal exits on the national highway stretch between Delhi border and Old Kapriwas in Gurugram in the survey carried out more than 10 days ago.
"This stretch of the Delhi-Jaipur carriageway is more than 40km long. There are only six to seven legal exits on this stretch; everything else is illegal," he said.
Bhushan said the maximum number of illegal exits were found near a multinational fast-food outlet ahead of Kherki Daula toll plaza, followed by Panchgaon, Dharuhera, near KMP, and near Rampura flyover.
A senior RTA official said these exits were a threat to life and property as drivers often applied the brakes all of a sudden on spotting the exits to make a U-turn to reach the restaurant, eatery or petrol pump.
"In such a scenario, vehicles coming from behind collide with the one trying to turn through the illegal exit. The violators have removed medians and levelled the gaps with soil for easy movement of vehicles," he said.
The officer said the situation becomes worse when a long trailer truck tries to take the exit. "They need a large space to turn and thus more than 60% width of a carriageway gets blocked. That results in snarls and also leads to accidents," he said.
A second RTA official said the direction from the senior officers was to complete the entire work of closing the exits by January 15 but it is going to take some time.
A senior NHAI official said they have served notices to several establishment owners who created the illegal exits on NH-48. "We will soon have a meeting with all the stakeholders on the matter and that includes Gurugram RTA and traffic police," he said, asking not to be named.
"It is now more than two decades since the Delhi-Jaipur highway (NH-48) was constructed and these exits were opened over time. We are in talks with our concessionaire to get such exits closed," he said.
According to Gurugram traffic police, at least 117 deaths have taken place on the highway stretch running through Gurugram in 2022, 91 in 2021 and 124 in 2021.
Virender Singh Sangwan, deputy commissioner of police (traffic), said, "These exits frequently cause snarls and accidents. We often have to deploy additional teams to control the situation."
Sangwan said these illegal exits are a major hazard when it comes to providing security during VIP movement.
"We have to close these exits either by using temporary barricading or by deploying personnel there to stop motorists from using the exit," he said.