Waterlogging and road cave-in lead to accidents in Gurugram Sector 38
Published on Aug 09, 2022 12:42 AM IST
Six commuters injured, and several vehicles damaged after a section of the 11km stretch between Sohna Road and Sector 38 (via Islampur) caved in following heavy rain on Sunday, commuters alleged on Monday, adding that numerous potholes on the stretch also added to the hazard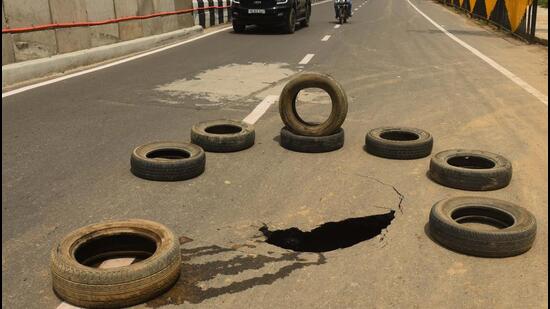 At least six commuters were injured, and several vehicles damaged after a section of the 11km stretch between Sohna Road and Sector 38 (via Islampur) caved in following heavy rains on Sunday. Numerous potholes on the stretch also added to the hazard, commuters alleged.
Sector 38 residents claimed that despite repeated complaints filed with civic agencies and on the CM portal, authorities are yet to repair the stretch. They further alleged that more than 10 accidents are reported every day. However, police said they have not received any such complaints so far but a team will visit the spot and cordon off the area.
Swati Yadav, a nurse at a multispecialty hospital in Sector 38, who was injured after her scooter met with an accident on the stretch, said, "There is no way I can avoid this stretch. Three of my colleagues were also injured on Sunday and two auto-rickshaws toppled on the stretch. The cave-in and potholes were not invisible due to water logging leading to the accidents. Authorities have done nothing for the last three days despite several complaints."
Gazanand Sehrawat, who runs a common service centre in Islampur, alleged that senior citizens have been hospitalised after they fell off auto-rickshaws and two wheelers. "It is the same story every year during monsoons. There has been no repair work for many years and residents of the area have contributed and dumped soil on the road as it needs urgent repair," he said.
Shopkeepers also said that residents have stopped visiting the market due to the poor condition of the road. Some social workers and Sector 38 residents cordoned off the area for safety but some miscreants removed the blocks.
Ashwani Thakran, a resident, said that they upload photographs of the stretch on social media every day in hope of getting noticed by authorities or concerned politicians. "We have written to all departments for repairing the route but no one has paid any heed to our complaints, emails, messages and calls," he said.
Nishant Kumar Yadav, deputy commissioner, Gurugram, said that he will ask concerned authorities to visit the spots and do the needful at the earliest. "The local body of residents should cordon off the stretch immediately and inform authorities to ensure it is not used by commuters. Safety and security of residents is important and we cannot risk the lives of commuters," he said.
"There have been complaints of poor construction done recently in sector 38, but we haven't received any complaints related road cave-in. We will verify the reports and take action against the concerned contractor if there are lapses on their part. This road maybe under the Gurugram Metropolitan Development Authority or the National Highway Authority of India but we need to verify the details," an MCG official privy to the matter said.
Personalise your news feed. Follow trending topics