Congress, regional parties reduced to dynastic organisations: Nadda
Updated on Jan 24, 2023 04:26 PM IST
Addressing BJP leaders and party workers at the state executive meeting in Jaipur, Nadda further attacked parties and political leaders who participated in Rahul Gandhi-led Bharat Jodo Yatra, saying they have 'conspired against India'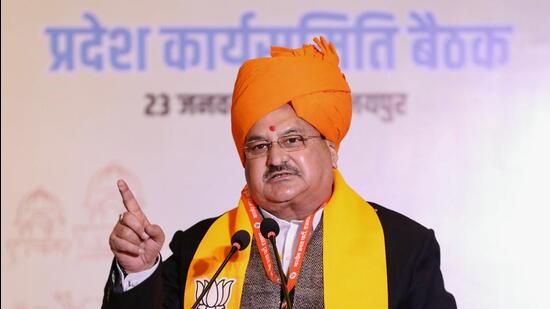 Bharatiya Janata Party (BJP) national president JP Nadda on Monday said the Congress and regional parties were reduced to dynastic parties, adding that the BJP is the only national party.
"The Congress is finished… its identity is that of a family party… regional parties too are family parties," he said.
Addressing BJP leaders and party workers at the state executive meeting in Jaipur, Nadda further attacked parties and political leaders who participated in Rahul Gandhi-led Bharat Jodo Yatra, saying they have 'conspired against India'.
Also Read: Nadda slams Congress as BJP kicks off Vijay Sankalp Yatra
"The people walking with Rahul are those who have conspired against India… The Congress party is backing those people who have chanted slogans like 'Afzal hum sharminda hain, tere katil zinda hain'… what can you expect from a party that is standing with those who have worked against the nation," said Nadda.
Nadda further hit out at chief minister Ashok Gehlot and said that situation in Rajasthan is appalling under his leadership.
"Crime against women, Dalits and weaker sections and cyber crimes are on the rise. Prices of electricity, petrol and diesel have continually risen in Rajasthan," Nadda said.
"We have to fight to uproot and throw out the Congress government," the BJP chief said.
Nadda further appreciated the work done by state BJP president Satish Poonia and his team in Rajasthan.
Also Read: Bharat Jodo Yatra: Rahul Gandhi backs demand for restoring J&K statehood
"Continue to work hard. Under the leadership of Prime Minister Narendra Modi, the BJP will form the government in Rajasthan with a three-fourths majority. The BJP will return to power again in the state," said Nadda.
He said that party leaders and workers should work dedicatedly for 'Mission 2023 and 2024' so the BJP wins in Rajasthan and comes back to power at the centre.
Nadda encouraged workers to run door-to-door campaigns to reach out to the people. "Learn about local problems and work to resolve them," he said, adding that the BJP should be strengthened at the grassroots level.