Bharat Jodo Yatra: Rahul Gandhi backs demand for restoring J&K statehood
Updated on Jan 24, 2023 01:02 AM IST
Senior Congress leader Rahul Gandhi said the demand for statehood of Jammu and Kashmir is the biggest issue and his party will use its "entire might" to restore it.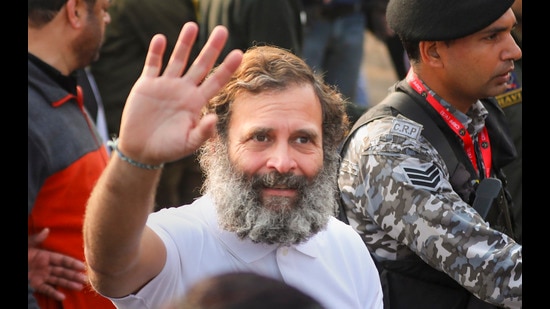 Jammu: Senior Congress leader Rahul Gandhi on Monday said the demand for statehood of Jammu and Kashmir is the biggest issue and his party will use its "entire might" to restore it.
Addressing the gathering during his Bharat Jodo Yatra, which arrived in Jammu on Monday, the Congress leader said he met a cross section of people from the Union territory during the foot march who told him that J&K these days is being run by "outsiders".
"Here in J&K, statehood is your biggest issue. Nothing is bigger than it. Your right has been snatched," said the former Congress president. "The Congress party will fully support you and your statehood (demand). To reinstate statehood, the Congress will use our entire might."
On Monday, security was heightened for the Congress leader's address at Satwari Chowk in the wake of twin bomb blasts in Jammu two days ago.
Also read: Rahul Gandhi's diet, workout regime, first salary and 3 favourite dishes
On August 5, 2019, the Bharatiya Janata Party (BJP)-led Union government revoked the special status to J&K by revoking Article 370 and bifurcated the erstwhile state into two Union territories of Jammu and Kashmir, and Ladakh.
Gandhi said J&K residents told him that their voices are not being heard by the administration.
"Locals here, including young and old, men and women, who met me in this yatra, told me that earlier the people of J&K used to run the region, but today outsiders are running J&K and that the administration doesn't listen to their voice," he said. "They also told me that the entire trade is being run by outsiders and people of J&K watch them sitting haplessly."
He said that J&K has the highest level of unemployment in the country and took a swipe at the BJP government for bringing in "Agniveer" scheme for the short-term recruitment in armed forces.
"Amidst unemployment, the youth used to look up to the army but this government has also closed the door on them. They brought Agniveer scheme without understanding the ethos of the army," he said.
The Wayanad Lok Sabha MP also accused the J&K administration of "doing injustice" with Kashmiri Pandits.
"They met me today and informed that when a delegation of Pandits had gone to meet the LG (lieutenant governor) Manoj Sinha, he asked them not to beg. This is appalling. They are not begging… they are demanding their due rights," said Gandhi. "If the LG has to do something, he should first apologise to them."
Later in the day, Gandhi also visited historic Raghunath Temple in the old city and paid obeisance.
After an overnight stay at Sidhra on the outskirts of Jammu, Gandhi's Bharat Jodo Yatra will head towards Jhajjar Kotli on Jammu-Srinagar national highway on Tuesday.
Reacting to Gandhi's address, J&K BJP president Ravinder Raina said: "The Prime Minister and home minister have assured in parliament that (J&K's) statehood will be restored when situation turned normal and there is no separatism and terrorism left. Why is he (Rahul) in a hurry."
"Whether it's a UT or a state, it is an integral part of India. Why Rahul Gandhi is bothered about it. Ever since the revocation of Article 370, all central laws are now applicable in J&K," he said.
He alleged it was the Gandhi family "that didn't want full integration of J&K with the Union of India".
Also read: Rahul Gandhi's security 'top priority': Jairam Ramesh amid J&K twin blasts
"It was Rahul's clan that gave two flags and two constitutions. PM Modi reversed the Congress blunders on August 5, 2019," he Raina.
On Gandhi's allegations of outsiders running the region, Raina said, "Since J&K is an integral part of India, no one is an outsider. As far as welfare of the people of J&K is concerned, there are laws for land and jobs to them."
He accused the Congress leader of indulging in false propaganda.
"Today, he is going to hoist the national flag at Srinagar's Lal Chowk because the situation is under control. Could he have dared to do so in 1990s when terrorism was at its peak," he asked.
Topics