Bombay HC extends Varavara Rao's bail, NIA insists on his surrender
When the application came up for hearing on Monday, the bench of justices SS Shinde and NJ Jamadar was informed by senior advocate Anand Grover that the Telugu poet rented a flat at Malad (E) and was living there with his wife and two servants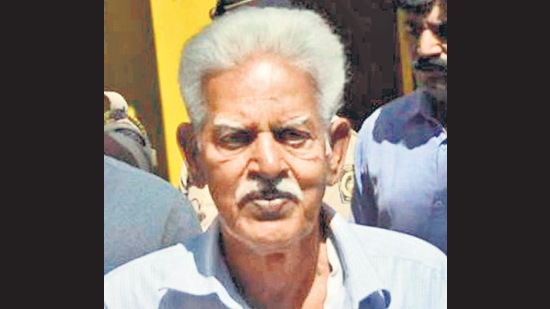 Updated on Sep 07, 2021 02:46 AM IST
, Hindustan Times, Mumbai
K A Y Dodhiya
The Bombay high court said on Monday that activist P Varavara Rao, an accused in the 2018 Bhima Koregaon case, need not return to jail till September 25 but the National Investigation Agency continued to oppose the extension of medical bail for the 82-year-old suffering from multiple ailments.
The high court extended Rao's date of surrender because it could not hear his application for a six-month extension of temporary bail on medical grounds due to paucity of time last week.
The 82-year-old activist was granted interim bail on medical grounds in February 22 this year, was scheduled to surrender and return to judicial custody on September 5.
Last week, the activist filed an application seeking extension of the bail and permission to stay in his hometown Hyderabad while out on bail, saying he found living in Mumbai and accessing health facilities unaffordable.
In his application, the activist said the neurological problem he faced while in Taloja jail had deteriorated and that he was suffering from memory loss due to lacunar infarcts in six major lobes of the brain. He said a urinary tract infection had not improved and he required a hernia operation, all of which would result in further aggravation of his condition if he were asked to surrender to Taloja jail.
But the NIA, which is conducting a probe into the case, opposed Rao's plea and to shift to Hyderabad from Mumbai, saying his medical reports did not indicate that he suffers from any serious medical ailment.
"The medical reports filed by the applicant do not disclose any major ailment which necessitates him to take treatment at Hyderabad, neither it forms a ground for further extension (of bail)." The NIA, in its affidavit, further said the Taloja prison, located in Navi Mumbai, had adequate health care facilities and Rao could be provided with the"best medical facilities" there.
The NIA affidavit also said that Taloja jail authorities provided the best medical facilities as per jail manual.
"It is submitted that surgery for cataract and hernia can be done in judicial custody under the supervision of doctors of government hospitals at Mumbai and as such there is no need of supervision for four months," the NIA told the court.
The agency also said Rao should not be granted bail extension or allowed to shift to Hyderabad as he is accused of committing a "serious" offence. "They (Rao) cannot expect the Hon'ble courts to pass orders as per their convenience, especially when the accused has prima facie committed offence of serious nature," the NIA said.
But in his application, Rao contended that if he returned to Taloja jail, his health would certainly deteriorate and he might die.
Another accused in the case, activist Stan Swamy, died in May while his bail application was being heard in the Bombay high court. The 84-year-old Swamy suffered from Parkinson's disease and his death prompted Opposition politicians to criticise the authorities for opposing his bail application.
On Monday, senior lawyer Anand Grover, representing Rao, told the court that after being granted bail on February 22, Rao was discharged from Nanavati Hospital -- where he was shifted earlier from Taloja jail due to health issues -- and rented a flat at Malad (East) and was living there with his wife and two servants. He said Rao had regularly been going to the hospital for check-ups and was found to be suffering from three more conditions now.
When the court expressed its inability to hear the application due to other administrative commitments, Grover sought an order extending the date of surrender. The high court agreed and said Rao needn't surrender till September 25, but added that he must continue adhering to the bail conditions until then.
Rao is among the oldest of the 15 activists and lawyers arrested on charges of conspiring to foment violence at Bhima Koregaon village in Maharashtra on January 1, 2018. The village was rocked by caste clashes during the bicentennial celebration of a British-era war by Dalits.
The accused are charged with making inflammatory speeches during an event in Pune on December 31, 2017 called Elgar Parishad. The prosecution claimed the conclave was organised by people with alleged Maoist links.
Rao and others have been charged under various sections of the stringent Unlawful Activities (Prevention) Act (UAPA) and the Indian Penal Code (IPC). Rao was arrested on January 1, 2018.
(With agency inputs)
Close Story