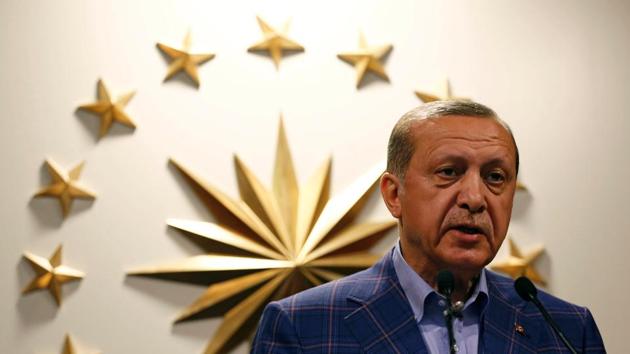 Erdogan comes to India a winner and loser
The outcome of the Turkish referendum is especially embarrassing since Erdogan has spent the past two years systematically titling the playing field in his favour, by purging the opposition, and suppressing press freedom.
UPDATED ON MAY 28, 2017 10:46 AM IST
When I first met Recep Tayyip Erdogan, in the autumn of 2011, he had just arrived in New York after a triumphant tour of West Asia. The Arab Spring was then in full bloom, and in countries like Tunisia, Libya, and Egypt, the Turkish Prime Minister (as he was then) was greeted like a rock star. Young Arabs, heady from having toppled their dictators, saw in Erdogan an ideal of a truly democratic leader. And he sought out potential leaders in all these countries, to lecture them on the Ankara way. "At my meetings, I said… Turkey is a model of democracy, a secular state, a social state with the rule of law upheld," he told me. "We are not intentionally trying to export a regime — we couldn't care less. But if they want our help, we'll provide any assistance they need."
At home, his star was at its apogee: Turkey's economy was surging, his AK Party seemed impregnable, and his decision to sever ties with Israel — in response to the 2010 Maavi Marmara incident, in which Israeli commandos killed several Turkish activists on a peace flotilla bound for Gaza — was hugely popular. Erdogan, in the eyes of many of his countrymen, was a leader of the stature of Kemal Ataturk.
When President Erdogan (as he is now) arrives in New Delhi this month, he will be a shadow of the man I met in New York. Although it will be his first trip after a personal triumph — over the weekend, he "won" a referendum giving the President vastly increased powers — it has come at a tremendous political cost, to his country as well as to Erdogan himself. Far from being the popular mandate he had hoped for, the vote was desperately close: 51.5%-48.5%, and even that was weakened by charges of vote tampering.
Let's pause here for a moment to thank the framers of India's Constitution for making such a charade near as makes no difference impossible here. For one thing, India doesn't do referendums. For another, any Indian Prime Minister seeking to pull an Erdogan would find his way blocked, first by Parliament, and then by the judiciary.
The outcome of the Turkish referendum is especially embarrassing since Erdogan has spent the past two years systematically titling the playing field in his favour, by purging the opposition, and suppressing press freedom. Turkey has 81 presspersons in its prisons, the largest number of any country in the world. This would be shameful under any circumstance, but the more so because Turkey is a democracy.
Which brings us to the next blot on Erdogan's record: his deliberate undermining of democratic institutions. This had begun before an abortive coup attempt against him last July, and accelerated soon after under emergency powers that he now aims to normalise. Not only did Erdogan purge the military, he also identified and removed (or arrested) tens of thousands of people from educational institutions, the police, judiciary and civil service.
All of this would be worrying enough without the fact that Turkey is being buffeted by two wars: one across the border, in Syria; and the other within, in its Kurdish territory. And there's growing evidence that the terrorist group that calls itself the Islamic State is putting down roots on Turkish soil.
Abroad, Erdogan's star is now at its perigee. Relations with Europe, already strained by the European Union frustrating Turkey's efforts to join the grouping, have plummeted precipitously in recent weeks, with Erdogan lambasting the governments of Holland and Germany for "Nazi tendencies," all because they, in according to their own laws, forbade Erdogan's ministers from canvassing for votes among Turkish expats there.
Erdogan is no longer the colossus he once was on the West Asian stage. Turkey's pretensions of having a major role in the affairs of Arab states have been embarrassingly exposed by its inability to exert much influence on the Arab state on its border. Where Erdogan once regarded Bashar al-Assad as something of a protégé, he is now seeking the downfall of the Syrian dictator — but having very little impact.
Gone, too, is the hero-worship Erdogan once enjoyed among young Arabs. Once, they listened attentively as he lectured them on democracy, now they see that he has become an autocrat, not unlike their own dictators.
So the Erdogan who arrives in New Delhi may be a winner of a referendum — assuming opposition parties are unable to challenge the outcome in the courts. But in every way that matters to his country, Turkey's President is a loser.
Bobby Ghosh is editor-in-chief, Hindustan Times
@ghoshworld
Close