I do, but terms apply
A coalition should be a marriage in which a pre-nuptial agreement has been signed stating which issues will be absolute deal-breakers. Chanakya writes.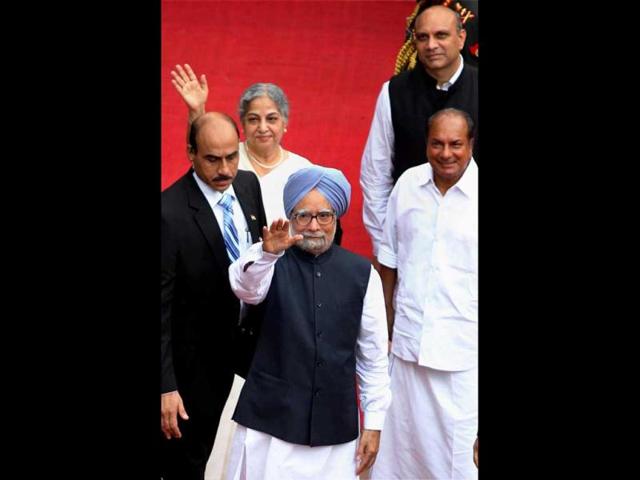 Updated on Sep 23, 2012 01:57 AM IST
I n the uncertain world of Indian politics, there is only one thing I can say with utmost certainty - the era of coalition politics is here to stay. We can have mid-term elections or right regular elections, but it is clear that no one party will get the clear majority to rule India. When coalition politics came into being, many of us applauded this trend. We thought it would better reflect the aspirations of the people more than monolithic parties would. And in its truest form, coalition politics should have worked.
I am not saying that a coalition government should be a melting pot. Not at all, but it should at least be a salad bowl where the different elements come together to make for a palatable dish. Or let me put it this way, a coalition government should be a marriage in which a pre-nuptial agreement has been signed stating clearly which issues will be absolute deal-breakers.
In recent times, I have no reason to believe the different political formations which have come together to form governments have gone into it blindly. No, they have met, they have thrashed out common minimum programmes and they have understood what lines cannot be crossed. But what we have been seeing now amounts to tearing up the pre-nuptial agreement and saying 'I have changed my mind, I don't like your face anymore and unless you give in to all my demands, I am off and away and so do your worst.' It is not just a breach of faith but also makes for really bad politics.
This, in effect, is what the Left did with UPA 1 and what the mercurial Mamata Banerjee has done now. The Left did not go into the government then on the presumption that Manmohan Singh was an advocate of turning guns into ploughshares, or that he would go back to a small-scale industry based economy or that he would be following the dictates of the 55th plenum of the Communist Party of China. The Left knew full well what the Congress's politics was, what its worldview was, what its security doctrine was. Yet halfway through, the Left decided to change the goalposts with disastrous results for itself. But, it did amount to throwing the pre-nuptial agreement to the winds.
I now learn that Banerjee whose heart beats for the aam aadmi who, I am told, will collapse in a heap if foreign direct investment (FDI) in the multi-brand retail sector is brought in actually advocated it in her manifesto. It was a mere draft, say her faithful. Pull the other one, it's got bells on Mamatadi. Obviously, she saw some benefit from joining the UPA 2. So, then in any mature polity, someone of her stature should not stamp their feet and Oliver Twist-like ask for more each day.
There are at least three issues on which the central government can and almost always will take the final call. It may consult its allies, but the prime minister, as the first among equals, has the right to call in the markers on foreign relations, internal security and economic issues. Of course, within the last two, the states have much leeway and so allies have a considerable say. Today, we see a situation in which the Dravida Munnetra Kazhagam is deciding what the Centre should do on the Sri Lankan president's visit, Mamata is screaming herself hoarse about FDI in retail when she can jolly well decide to shun it in her state and many allies are being recalcitrant on issues of national security.
All I can say is that at a time when people are already more than fed up with the way our political establishment seems to be in a permanent state of marital disaffection, our elected representatives are not even putting up a public show of tolerance for each other, leave alone concern for the country.
In fact, the very sight of former UP chief minister Mulayam Singh Yadav fondly speaking of the Third Front fills my heart with terror. If formations where large parties like the BJP and the Congress cannot hold together effective coalitions, the strange bedfellows who come together in Third Fronts will bring down the house even before the honeymoon begins.
So the next time we are faced with a coalition, I think the people have the right to ask - what are the terms and conditions you have accepted while entering into this political matrimony? This way, no one can pretend that they did not know what they were getting into. It is a cold approach perhaps, not the stuff of romance, but this is the only way to make a pre-nuptial agreement work in our fickle world of politics. It may not be exactly till death do us apart, but at least it will be till mutual consent sees us going off in different directions without too much damage to the family.
Close Story