Modi and May must bring closure to the events of 1984 riots
Nov 09, 2016 06:25 AM IST
Shining a light on the attack on the Golden Temple, the assassination of Indira Gandhi and the planned anti-Sikh massacres that followed doesn't need to be a religious or political issue. It is a human rights issue
Almost everyone from a Sikh family has a story from 1984. On October 31, 1984, just after Indira Gandhi was assassinated in retaliation for the assault on the Golden Temple, we were in Pune. I was seven years old and my brother was five. We were with my father who was there on an army course. Everywhere the news was that Hindus were indiscriminately targeting Sikhs — sometimes cutting off their hair and assaulting them, or even killing them in cold blood.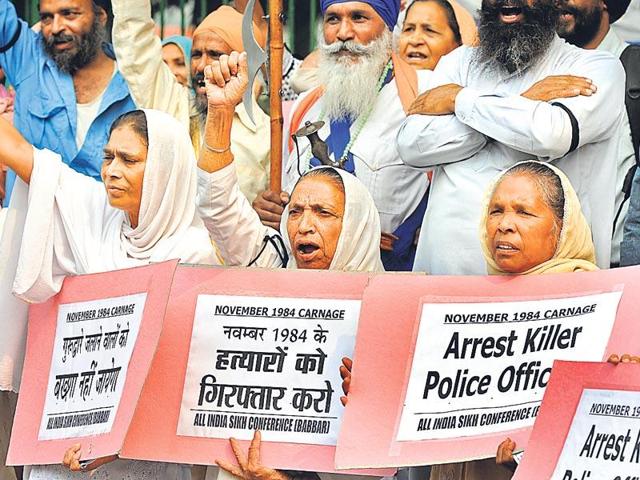 My father needed to get us back to Ambala, in Haryana, where we lived. He managed to book the first train back but that posed its own problems: Mobs were known to be storming trains to find Sikhs. Neither me nor my father had long hair or wear a turban, but my brother did. "Even though I was in the army, I was still worried about them [the mobs]," he told me. To avoid detection my brother was disguised as a girl, with his hair let loose. "I couldn't sleep because I was worried someone would recognise us and kill us."
Read | Anti-Sikhism in Congress DNA: Sukhbir Badal
We managed to get back to Ambala safely. But for months afterwards my parents remained vigilant and we had to be very careful even when going to and coming back from school.
The incident is recalled to emphasise that the events of 1984 still loom large over Sikhs from all over the world. Even if they were not in India at the time, they know a family that was. And just because many Sikhs have moved on since then it doesn't mean their memories have vanished. We didn't suffer any close tragedy but there were thousands who did.
Also, the events of 1984 have become a flashpoint in Britain again. Two years ago, documents de-classified by the British government from 1984 showed that they had helped the Indian government plan Operation Blue Star — the attack on the Golden Temple in Amritsar. This revelation came as a shock and surprise to many British Sikhs and sparked anger. They felt betrayed. It wasn't fully clear how much help the British offered, and now many MPs have demanded an investigation.
Read | Opposition asks PM May to 'come clean' on Britain's role in Operation Blue Star
An inquiry was swiftly ordered by the prime minister, who promised that nothing would be hidden. A few months later the then foreign secretary told MPs that British involvement in Operation Blue Star amounted merely to a visit by a military officer in February 1984 (the attack took place in June). The inquiry said this help was merely a "one-off".
But that claim is now in doubt. A few weeks ago, the British government suddenly withdrew some de-classified documents after it emerged that perhaps British involvement was more than previously admitted. British Sikhs are now demanding answers.
It's worth saying that I'm not a "Khalistani". I don't believe in the idea of a Sikh state, nor have I ever agitated for one. Any country created for the people of just one religion eventually becomes a dictatorship of fundamentalists. It would not allow democracy, pluralism and dissent because those principles would conflict with its ideal. Discrimination and segregation would become deeply embedded. The idea of a country for Sikhs, as one for Hindus or Muslims, is dangerous and wrong.
Read | Justice delayed is an incurable wound: Delhi HC on prolonged 1984 riots case
But you don't have to be a "Khalistani" to call for justice for the Sikh victims of 1984. Shining a light on the attack on the Golden Temple, the assassination of Indira Gandhi and the planned anti-Sikh massacres that followed doesn't need to be a religious or political issue. It is a human rights issue.
Some say revisiting the past would help fundamentalists use it for political purposes. But the reverse is true. The conspiracy of silence and cover-up around 1984 has continued to help anger and radicalise Sikhs.
If it emerged that the British did play a significant role in Operation Blue Star, it would be seen as a betrayal. It would also mean they were not fully honest two years ago. Now some British MPs have again written to Theresa May demanding clarity.
Read | It's not just the British, but our govts also owe us a range of apologies
But more importantly, Prime Minister Narendra Modi also needs to fulfil his promise to Indian Sikhs and work to deliver justice for the victims of 1984. Modi himself admitted what happened then was a "genocide". There is an abundance of evidence showing that policemen turned a blind eye to attacks on Sikhs, and that senior Congress officials facilitated them. When will the victims get justice?
Sikhs need closure on the events of 1984. They need the truth to be heard so they can move on in dignity. It is time they were afforded that. To paraphrase Nelson Mandela: A country is never more truthful than when its people admit they have made mistakes.
Sunny Hundal is a writer and lecturer on digital journalism based in London
The views expressed are personal