Resisting Donald Trump is essential for Europe's survival
Feb 18, 2017 09:20 PM IST
The anti-immigration and anti-globalisation wave that elected Donald Trump and drove the UK out of the European Union will cause havoc elsewhere. In Germany, France, the Netherlands, Italy, Austria, Hungary, etc, there are Trump-clones trying to ride the same wave. They hope he will drive Europe further towards their kind of politics. I suspect the opposite will happen
Earlier this week, just after United States President Donald Trump's top adviser on national security resigned in controversy, a European intelligence official asked a reporter the question on everyone's mind: "I was hoping you could tell me what's going on over there [in the US]."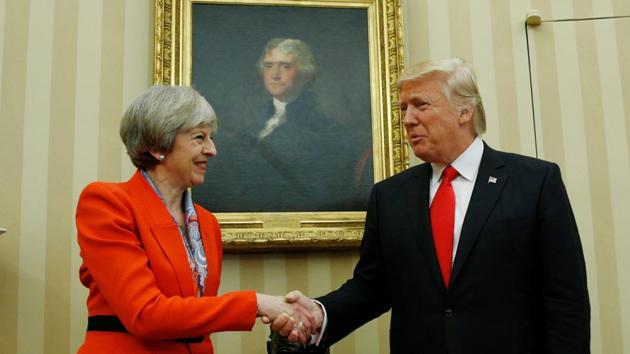 The simple answer to that question is that no one knows. Less than a month after the TV personality took over as president, Trump has turned the world's most powerful office into a freak show. Hardly anyone can make sense of it, yet no one can afford to ignore it. No one knows where the "Trump Train" will end up, but its direction is already causing panic across European capital cities.
Numerous commentators think the anti-immigration and anti-globalisation wave that elected Trump and drove the UK out of the European Union (EU) will also cause havoc elsewhere. In Germany, France, the Netherlands, Italy, Austria, Hungary, etc, there are Trump clones trying to ride the same wave. They hope he will drive Europe further towards their kind of politics.
Read | The Trump White House is becoming a global headache
I strongly suspect the opposite will happen. Trump already faces a lot of opposition, but no one is likely to frustrate him on the world stage as powerfully as the EU. This may sound like an odd claim, especially since the US and Europe have been close allies for over a century, but these are extraordinary times. Sometimes even the oldest of relationships can break down.
The first reason for this split is domestic politics. Germany, France and the Netherlands all have elections this year and in each case, surprisingly, Left-liberal parties are gaining momentum ahead of Right-wing ones. Why? Because Trump and Brexit have energised the Left and given them the perfect enemy.
Europeans have been watching the upheaval that Brexit has already unleashed and don't want the same fate. The Trump clones who want their country to leave the EU are left defending an increasingly unpopular stance.
Read | Donald Trump's outburst at Turnbull set to change calculations in Australia, Asia
Plus, their dislike of Trump is turning them off his policies. A survey in January found a large majority of Europeans think Trump will make the world a more dangerous place (Handelsblatt/YouGov). And he is dragging the Trump clones down with him.
Second, and more important, Trump and European leaders strongly differ on many of the biggest issues they face. Trump thinks global warming is a conspiracy while Europe wants stronger action to stop it; he thinks the Iran nuclear deal was a disaster even though European leaders painstakingly worked on it; he wants to slash regulation for banks while Europe wants to avoid a re-run of the 2008 crash; he thinks global trade hurts American jobs while the EU takes the opposite position.
On the issue of defence too there is growing tension. Trump wants a closer relationship with Russian leader Vladimir Putin while most European leaders do not trust him as much as Trump.
Read | What will US President Donald Trump's Asia policy look like
And then there was the biggest snub of them all: Trump supported Brexit and surrounds himself by people who hate the EU. European leaders, naturally, are alarmed that their supposed ally wants to destroy all they have built over the decades. A senior EU leader recently described Trump as the "third threat" to the EU, after the ISIS and Putin. A survey in February found only 22% of Germans believe the US is a trustworthy ally — down from 59% when Obama was president.
Indians watching this drama from afar may feel like it has little to do with them, but they would be mistaken. If Trump's politics wins across Europe then it would severely impact global trade and immigration: Two areas where India has reaped huge benefits in recent decades. Already Trump's team is looking to drastically cut the number of immigrant visas (H-1B) granted each year. That would disproportionately hurt Indian graduates. A wider split between Europe and America would also force India to tread more carefully on issues from foreign policy to tackling terrorism.
But this is more than just about visas and trade. India, with its aspirations to be one of the world's great powers, cannot afford to merely watch from the sidelines. A surge in Trump's kind of politics across the West wouldn't just affect Indians living there, it would destabilise the entire world.
Read | Stunning moments, memorable one-liners: Trump rips media in first solo presser
European leaders rightly fear that Trump could unleash the kind of white-nationalism that plunged them into war in the 1930s. Resisting him, therefore, will become essential for the survival of Europe. Hence, an alliance that has lasted for decades and defined the modern world is disintegrating at lightning speed. There will be a lot of us wondering "what's going on" in the coming years.
Sunny Hundal is a writer and lecturer on digital journalism based in London
The views expressed are personal