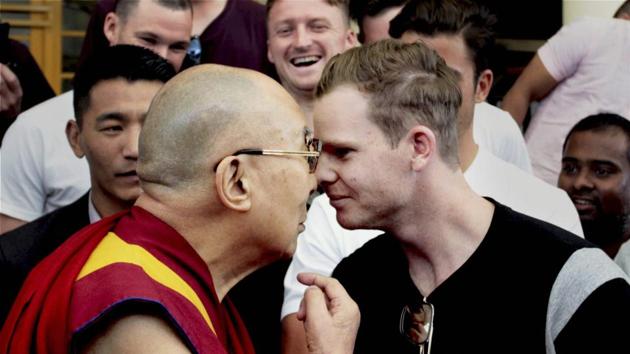 Steve Smith hopes for good sleep after meeting the Dalai Lama in Dharamsala
Steve Smith and the Australian cricket team had a special meeting with the Dalai Lama ahead of their crucial Test against India.
UPDATED ON MAR 25, 2017 05:06 PM IST
Steve Smith and the Australian cricket team met with the Dalai Lama on Friday in McLeodganj ahead of the fourth and final Test against India.
Speaking on the experience, the Australian skipper said, "I asked him a question on sleep and how he could help me. He gave me his blessings. We rubbed our noses together and blessed me. Hopefully I can sleep well over the next five days," Smith said.
+
The current series has generated controversies like the DRS fiasco in Bangalore, Glenn Maxwell mocking Virat Kohli's injury in Ranchi, Ishant's aggressive outbursts to the Australian media targeting Virat Kohli viciously. However, Steve Smith said that the Dalai Lama's stress on compassion left an impact on the team.
"The meeting relaxed us a bit. His emphasis is on compassion and oneness for all human beings. Sometimes we go over the top when we play cricket out in the middle. In the end of the day, it is a a game and one must realise that at the end of the day. That is something the team can take out of this meeting," Smith said.
Whenever international or IPL teams have played in Dharamsala, the Dalai Lama has met with players. In the 2014 ODI between India and West Indies, he paid a visit to the HPCA stadium and blessed players from both teams. In some IPL matches held at the venue, the Dalai Lama has paid a visit.
Close