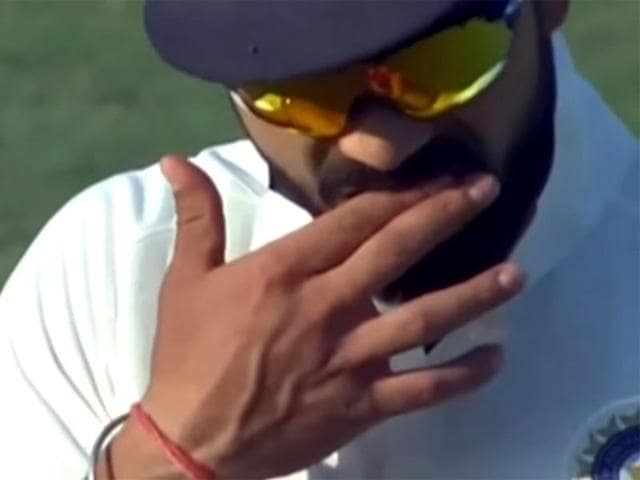 Virat Kohli in alleged ball-tampering row after Rajkot Test video went viral
Hot on the heels of the Faf du Plessis ball-tampering scandal, a video emerged showing Virat Kohli apparently applying more than just saliva on the cricket ball during the Rajkot Test between India vs England.
UPDATED ON NOV 23, 2016 10:49 AM IST
Virat Kohli is making news for the wrong reasons after a sensational video footage from the first India versus England Test in Rajkot shows the Indian captain apparently 'doctoring' the cricket ball.
On a day when Virat Kohli achieved his career-best Test ranking of No. 4, the 28-year-old could receive brickbats from fans across the world.
However, Kohli will escape any censure from the International Cricket Council because the video has emerged "outside the five-day window when the ICC CEO can lay charges." The Rajkot Test, which ended in a draw, was played between November 9-13.
The YouTube video (which was later blocked by host broadcasters STAR Sports), which is doing the rounds on Facebook and Twitter, has emerged hot on the heels of the Faf du Plessis 'mintgate' scandal. The 28-year-old Kohli can be seen rubbing his fingers in his mouth and he then appears to shine one side of the ball, something that helps in movement in the air.
On Tuesday, the South African Test skipper was fined 100 per cent of his match fees after being charged by the ICC for applying an artificial substance to the ball during the fourth day's play in the second Test against Australia in Hobart. The video, showing Du Plessis applying artificial substance to gloss the ball, emerged on November 16, a day after South Africa won the Test by an innings to clinch the series 2-0.
The Virat Kohli video has been 'liked' by former South African Test captain Graeme Smith on Twitter and should evoke some negative comments on the Indian batsman who has hit top form with the bat.
The Rajkot Test ended in a draw with England batsmen enjoying the pitch by scoring more than 500 runs in the first innings.
The Kohli video is a clip from England's second innings when Alastair Cook and Haseeb Hameed put on 180 for the opening wicket. Cook scored 130.
With his bowlers unable to cause any serious damage to the England batting, Kohli, who hates to lose, may have tried a few tricks to aid his bowlers.
Close