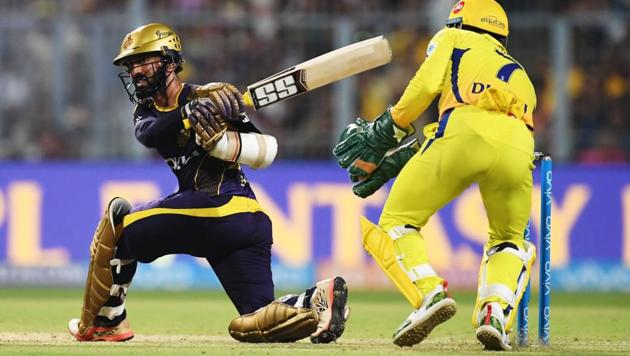 IPL 2018: Loss vs KKR a slap in the face for Chennai Super Kings, says Stephen Fleming
Chennai Super Kings coach Stephen Fleming said CSK lost a bit of intensity in the last four or five overs while batting against Kolkata Knight Riders (KKR) in their Indian Premier League (IPL 2018) match.
UPDATED ON MAY 04, 2018 08:58 AM IST
Terming Thursday's six-wicket loss as a "slap in the face", Chennai Super Kings' (CSK) coach Stephen Fleming said fielding was one of the reasons why they were "fractionally off as a team" at Eden Gardens. (KKR vs CSK Highlights)
"We know we are not strong in that area and it got exposed. That some good fielders made mistakes also led to the heads going down a little bit," said Fleming after Kolkata Knight Riders won in 17.4 overs. (KKR vs CSK scorecard)
Crucial among the fielding lapses was Ravindra Jadeja dropping Sunil Narine twice in successive deliveries from K Asif at mid-off. Such lapses affect bowlers too, said Fleming. Asif went for 21 in the 15th over and that swing the match KKR's way. Maybe that is why Fleming said he wasn't keen on ringing changes to the bowling unit. (IPL standings)
READ MORE | Prithvi Shaw reminds me of Sachin Tendulkar, says Mark Waugh
"We are not that good a side that we can have bad days and still get away with wins…I think it is a very tight competition, perhaps the tightest season to date with teams very smartly put together. It comes down to key moments. Fortunately for us, we are in a good position because we have won some key moments. But we have to keep winning those," he said.
Fleming said CSK lost a bit of intensity in the last four or five overs while batting. "Jadeja needed to go for more than run-a-ball at the death. And they bowled well."
READ MORE | Lasith Malinga gives domestic one-dayer a miss to focus on IPL role
KKR chose to go with spinners in the slog overs. Leg-spinner Piyush Chawla went for 15 in the 20th and chinaman Kuldeep Yadav gave away 12 in the 18th but sandwiched between them was Sunil Narine's over where CSK could score only four.
"Narine is a quality bowler even at the start and he is so at the end too. He stunted momentum," said Fleming.
CSK play Royal Challengers Bangalore next and Fleming said it would be crucial to keep players fresh and the energy levels up as they get into playing a lot of games in a row.
"So, a lot to work on. If you win, you just keep riding that momentum but a loss just gives a slap in the face and, hopefully, it will have an effect in a day-and-a-half's time," he said.
Close