IPL 2018: Yuzvendra Chahal has sights set on England and Ireland limited-overs tour
Yuzvendra Chahal is upbeat about his role as Royal Challengers Bangalore's lead bowler and is confident of clicking on India's upcoming UK tour.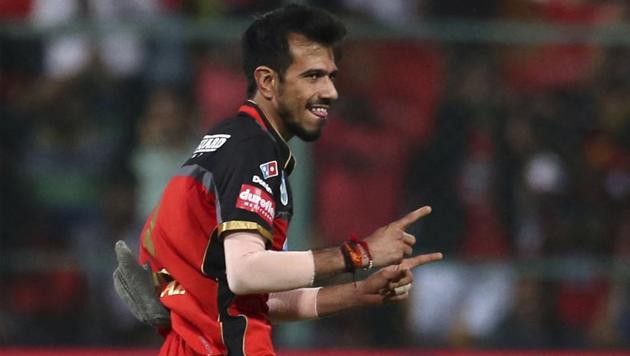 Updated on May 13, 2018 08:42 AM IST
Yuzvendra Chahal is confident ahead of the England tour despite India's key limited-overs spinner no longer being an unknown quantity after standout performances since his debut in June, 2016. (DD v RCB HIGHLIGHTS)
The 27-year-old from Haryana has also been a vital member of Royal Challengers Bangalore in the last five seasons and his 21 wickets took Virat Kohli's team to the final of IPL 2016. (DD v RCB HIGHLIGHTS)
Chahal has been the steadying force for RCB this season as the openers have wobbled. On Saturday, Chahal's two crucial wickets (4-0-28-2) while opening the bowling helped defeat bottom-ranked Delhi Daredevils by five wickets.
His success along side Chinaman bowler Kuldeep Yadav for India has vindicated skipper Virat Kohli's faith in wrist spinners, though Chahal came in for some punishment in South Africa, where India won the ODI and T20 series.
READ | IPL 2018 sees third pitch invasion, Virat Kohli latest target for eager fan
RCB'S DEATH BOWLING WOES
Chahal admitted RCB need to improve their death over bowling, but said it was not an issue with India.
"When you play for India, they are all our best bowlers. You take Bhuvi pa (Bhuvneshwar Kumar) or Jasprit (Bumrah), they are death overs specialists. Here youngsters may be playing for the first time. There will be big crowds and they might be feeling the pressure.
"We're making mistakes in the death overs, but we'll gradually improve."
The leg-spinner has taken only 10 wickets in 11 games in IPL 2018 – he removed Daredevils openers Jason Roy and Prithvi Shaw on Saturday. Chahal, who called himself an IPL product, was successful in the last four seasons, taking 12 wickets in 2014, 23 in 2015, 21 in 2016 and 14 in 2017.
"If I am not getting wickets, then I am also giving away fewer runs. That means, this year the batsmen are not attacking me that much; though they have seen me more now, videos and all."
After IPL, Chahal -- he has 43 ODI wickets and 35 T20 scalps – will head to the National Cricket Academy in Bangalore to prepare for the Ireland and England limited-overs series.
READ | IPL 2018: How all-rounder Andre Russell guided KKR to victory over KXIP
NOT FEELING PRESSURE
Asked whether he felt the pressure of the second season, Chahal denied while explaining his plans ahead.
"Just like they have videos of our games, we also have theirs. And before England, we are going to Ireland. The weather is expected to be the same as in England. I have a month left after IPL. I will go to NCA for training. There I will have a chat with my coach, Hirwani Sir (ex-India leg-spinner Narendra Hirwani, the spin coach).
"He has also played earlier in the UK. So, I will ask him about the weather. And our A team will go first, and I have a lot of friends and will find out from them how helpful the pitches are and how the bounce is."
India will play two T20s versus Ireland at June end before playing three T20s and ODIs each followed by five Tests against England.
READ | Sunrisers Hyderabad not out there to make a statement: Tom Moody
DEFENDING RCB BATSMEN
RCB batting has not clicked this season, frustrating a powerful side on paper that was last on the points table in IPL 2017. Bowlers too, especially pacers Umesh Yadav and Corey Anderson, have blown hot and cold.
Chahal defended the batting department despite Virat Kohli and AB de Villiers, who scored 70 and 72 not out respectively on Thursday, having to carry the side every time.
"If we reached the final in 2016, it's because of the batsmen. In every match, they were the guys who scored 200 plus. As bowlers, we should also be aware every time we will not get to defend 200."
Close Story