MS Dhoni's success mantra: Enjoy life, don't think too much ahead of time
Updated on Jul 24, 2017 03:47 PM IST
MS Dhoni has stressed the importance of fitness in current times and has said that one must not think too much ahead of time if they have to enjoy life.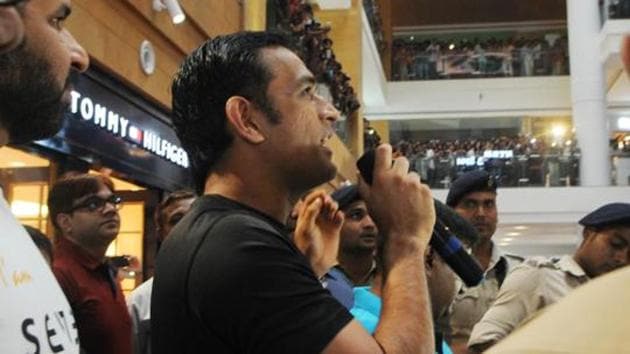 Hindustan Times, Mumbai |
HT Correspondent
For the past couple of years, there has speculation that Mahendra Singh Dhoni has slowed down or isn't as fit like he was a couple of years back. However, he has dispelled that notion with each passing year. Besides being extremely quick between the wickets, Dhoni is still an agile wicket-keeper and has been living up to the pressure of expectations every time he walks out in the middle.
In a recent interaction at the launch of the second edition of the Tamil Nadu Premier League, Dhoni stressed on the important of fitness and also enjoying life as an athlete
"Fitness is a major part of any sport today whether it is skill-oriented or endurance-oriented. If you have right kind of food and supplement it with training, you can get much more out of yourself, both in physical and mental aspects," Dhoni said.
"The way a cricketer leads his life is completely different from what their friends or siblings do or even sportspersons in other disciplines lead their life and the wicket-keeper batsman highlighted on the issue as well. Enjoying life is important, but as an athlete you need to know what things you can't do that your brother or sister can," he added. "These days, players get educated about what they need to do. Most of the players learn from the seniors and there will be physios to assist you."
Dhoni, who is the only Indian captain to win all three ICC competitions — World T20 (2007), World Cup (2011) and the Champions Trophy (2013) also stressed on the need to not think too much while stepping in for a crucial match but focus on the way the game unfolds.
"We shouldn't think too much ahead of time and just concentrate on the process. If you are defending a score, think about which bowler can be used and what will be the field placements," Dhoni added. "When you are constantly thinking of all these things, you don't think about the results. So there is less pressure and you are trying to make sure that the process is more important. You are looking at how you can alter the course of the game and that in turn will help me get the desired results."
Critics have already fuelled speculations on when should the talismanic figure step down from all forms of cricket, but Dhoni seems to have a calm and composed outlook towards life.
Although he isn't going through the best of forms of late, Dhoni has his way of not letting the pressure get to him.
"That is how I keep myself calm under pressure and practice is something that gives you the confidence as to what needs to be done under pressure. You may not win ten out of ten games, but when you practise the right way and you have been in these types of situations for a period of time, you know how to get out of it," he added.