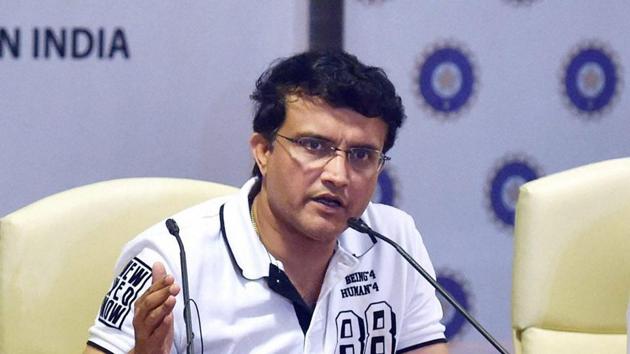 Pataudi Lecture: BCCI secy opposes names proposed by GM Saba Karim
BCCI GM Saba Karim had proposed the names of Sourav Ganguly, Nasser Hussain, Kevin Pietersen and Kumar Sangakkara to deliver the MAK Pataudi Memorial Lecture. But Amitabh Choudhary on Saturday expressed strong reservations to the four names
Press Trust of India, New Delhi | By Press Trust of India
UPDATED ON MAY 12, 2018 05:07 PM IST
The BCCI acting secretary Amitabh Choudhary on Saturday expressed strong reservations to the four names proposed by the GM (Cricket Operations) Saba Karim for delivering the annual key note address at the MAK Pataudi Memorial Lecture on June 12 in Bengaluru, prior to the one-off Test against Afghanistan.
The lecture, which is held during the annual awards ceremony, features an eminent cricketer of yesteryear addressing a relevant issue of the game.
READ | Even Cheteshwar Pujara should have skipped Afghanistan Test: Dilip Vengsarkar
In a chain of e-mails, GM (Cricket Operations) Saba Karim had proposed the names of ex-India captain Sourav Ganguly, former English captains Nasser Hussain and Kevin Pietersen along with former Sri Lankan captain Kumar Sangakkara.
There were three topics selected by Karim: 1) Peace and sustainability through Cricket - Relevant since Afghanistan is a wonderful story, 2) Behaviour and conduct of international players in the modern age - Players perspective, and 3) Cricket as an Olympic Sport - Way forward.
READ | Australian cricket in safe hands with Justin Langer: Jason Gillespie
While CoA member Diana Edulji zeroed in on Sangakkara with chief Vinod Rai "endorsing" the choice, former Jharkhand top cop Amitabh in his mail made it clear that legends of yesteryear should be invited to address the gathering as this is not an "elocution contest".
Interestingly, acting president CK Khanna and treasurer Aniruddh Chaudhry stuck to the options provided by Karim. Khanna was happy to go with either Sangakkara or Ganguly while Aniruddh wanted Ganguly or Pietersen to speak on Players' Behaviour.
However, Amitabh in his tersely-worded mail made it clear what he felt about Saba's options.
READ | Virat Kohli right in choosing county stint over Afghanistan Test: Gary Kirsten
What has possibly irked Amitabh even more was that when Karim had sought his suggestions, he had given a few names which the GM (Cricket Operations) conveniently ignored while preparing the final list.
"When the matter was discussed with me at Bangalore a couple of days ago, I had suggested we also look for probable speakers amongst distinguished cricketers of yesteryears such as Nari Contractor, Chandu Borde, Erapalli Prasanna and Abbas Ali Baig," Amitabh wrote in his mail sent to COA and office-bearers including CEO Rahul Johri and Karim.
While Karim's recommendation was based on his search for "former test cricketers of stature who are currently involved as either Commentators, Coaches or Administrators," the acting secretary felt that "elocution skills" was being given more weighage.
"Unfortunately, when the proposal came there was no mention of any of these past cricketers. As I understand Tiger Memorial Lecture is not an elocution contest and reasonable communication skills are all that we should look for. It is meant to bring to the fore the evolution of the game, what it meant to play for the country in the old days, the hardships of the time, challenges of the future and the like," Amitabh wrote.
He also gave his reasons why he felt a Borde or Contractor would be more relevant for this lecture.
"These cricketers have even had the distinction of having played alongside Tiger Pataudi and if any of them agrees it could provide the much needed perspective on how cricket has evolved from those years of challenge."
Amitabh then went on to explain the rationale behind his choices. "Nari was the captain of the touring Indian team to West Indies when he was struck by a bouncer and the brave man faced it all. This had resulted in Tiger taking over as the youngest ever Test captain having to lead a team of stalwarts such as Manjrekar, Borde, Nadkarni, Jaishima and Umrigar," he said.
"Chandu Borde was one of the most prolific batsmen of the day while Prasanna became the fastest Indian (during his time) to take hundred wickets in Tests,," he further wrote.
"Consequently, I am unable to agree to the proposal unless the ones named are disqualified for other reasons. I would earnestly request a further effort to seek one of them."
While making it clear that he does not agree with any of the proposals, Amitabh did not forget to mention how he has been overruled in the past and will have no option but to go with CoA decision.
"As in the past on so many occasions, if overruled, I will have no option but to go with the decision which emerges from these communications," he concluded.
Close